Smartphone shipments to hit 1.7 billion units by 2017
2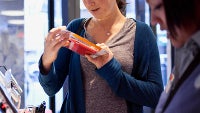 Research firm IHS says that this year,
900 million smartphones
will be shipped. 150 million of those phones will be Apple's iconic smartphone, says the researcher. That figure is basically flat from 2012's 134 million. By 2017, IHS sees 1.7 billion smartphones being shipped, an 88% increase over the next few years.
During last year's third quarter, the installed base for smartphone users reached 1 billion people and should continue to rise sharply. IHS senior analyst Wayne Lam said Wednesday that the mobile phone market continues to be transformed from a market dominated by low-end featurephones to one
dominated
by smartphones. Globally,
smartphone shipments outnumbered featurephone shipments for the first time ever
in this year's first quarter, a trend expected to last throughout the entire year.
"The possible slowing growth of the iPhone and the rapid pace of competitive smartphones releases speak to the ferocious nature of the handset business, especially now as the market continues to pivot from a market dominated by lower-end handsets known as feature phones to one that is increasingly smartphone-centric."
-Wayne Lam, Senior Analyst, IHS
source:
CNET