Smartphone owners buy iPhones "much more than first-time owners"
31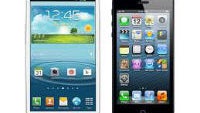 A big issue right now for smartphone companies is in how well they attract first-time smartphone buyers. While people may talk about one platform taking users from another, the truth is that people are lazy, and unless there was something hugely wrong with the device they had, they'll likely choose the same brand again because it's what they know. So, Consumer Intelligence Research Partners (CIRP) took a look at Apple, Samsung and others to see how well they attracted new users.
It turns out that while iPhone users are loyal, and the platform is quite good at attracting disgruntled smartphone owners from other platforms, Apple has a problem with attracting first-time smartphone buyers. According to the research, "Almost 50 percent of previous [smartphone] owners buy an iPhone, while under one-third of first-time [smartphone] owners buy an iPhone."

On the other hand, Samsung and HTC do equally well in both attracting first-time smartphone users and those who have owned smartphones before. LG is actually quite a bit better at attracting first-time buyers, and the presumption is that it is because LG has more low-cost handsets, and has a larger presence in the prepaid market, which is generating the most first-time buyers right now.
Given how deep into the smartphone push, those who have never before owned a smartphone are those who are most price conscious, and those who really might not have wanted to switch, but eventually have to. CIRP found that prepaid carriers are doing well at catching first-time smartphone buyers, as are Verizon and T-Mobile. Sprint and AT&T have higher rates of returning smartphone buyers.