Slow upload speeds over the weekend were due to network equipment bug, not data caps, says AT&T
7

AT&T let out an official statement yesterday that the slow upload speeds many users were experiencing on its 3G network over the holiday weekend, are not due to data caps. They were attributed to a software bug in the Alcatel-Lucent networking equipment the carrier uses. Evidently, a restriction kicks in under special circumstances, that prevents AT&T's HSUPA-enabled devices (Laptop Connect and the
iPhone 4
), to upload anything with more than 100 KBps, which is five times below the usual speed.
The issue started Saturday and many forums for iPhone users were humming with complaints about inability to upload photos or send attachments with the usual speed. On Tuesday, a Wired writer recorded the meager 27 KBps upload speeds, while download was close to 500 KBps. The situation was the same in many other places around the country, so people started to think this is some new type of data cap, this time on the upload traffic, that AT&T is quietly introducing.
Now, internet speeds are usually asymmetrical, i.e. upload is always slower than download, in cable broadband as well. However, less then 100 KBps is not what 3G users bargained for, even though they knew the AT&T network is under a lot of strain. The Alcatel-Lucent equipment is installed in some of the biggest metropolitan areas where AT&T operates, including New York City, and many users were still experiencing the slow uploads on Wednesday. The carrier said that less than 2% of users were affected, but that amounts to about 1.7 mln people frustrated when trying to upload videos or attach photos over the holiday weekend in those areas anyway.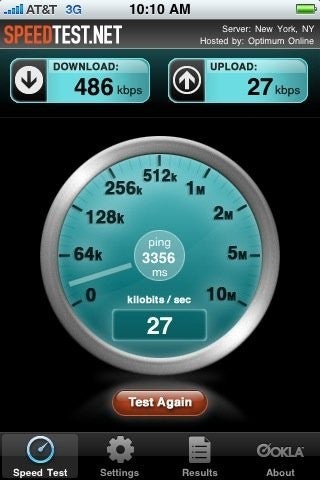 Are you still agonizing with Clinton administration upload speeds, or everything is back to normal now?
source:
Wired