Skype for the iPhone – next week?
5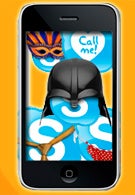 Earlier this week, we informed you about
the new version of Skype
, developed for Windows Mobile, which allows sending of files and SMS messages. Some information has appeared saying that we might see the popular IM client on the iPhone very soon. According to Gigaom's tipster, who is said to be very reliable, the version for Apple's product is almost ready for launch and may appear next week.
You would say "Big deal, I'm already using this IM client on my iPhone thanks to Truphone and Nimbuzz". Well, that's true, but Skype developers have already showed us that they can offer features, that nobody else could.
source:
Gigaom