Skype 3.0 Beta out now for Windows Mobile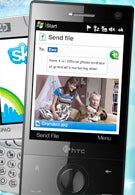 Great news for all Windows Mobile and Skype fans! The new beta version of the popular IM application is now available. Skype 3.0 Beta adds two wonderful features, which were badly wanted by the users. Firstly, we now have file sending. Why wasting a hundred words to describe yesterday's party, when you could send a few images? The other new feature is SMS sending, but in order to use it, users will need to have their cell phone number added in their profile. Short text messages are paid, but the rates offered by Skype are really low.
Sadly, this version is available only for Windows Mobile devices for now. Enough talk. Use the links below to download and test Skype 3.0 Beta (don't forget to share your impressions with us) or watch the video, in which John Nguyen shows the new features.
Download Skype 3.0 Beta
Video: John Nguyen shows the new version of Skype
via
Pocket PC Thoughts