Skype for iPhone 3G delayed as Verizon's deal is exclusive?
24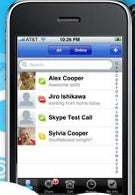 The guys at Gigaom have been told by a tipster that the Skype-Verizon deal is a 2-3 year exclusive pact between the two firms. No other carrier is expected to get the same support from Skype that Verizon will receive on its line-up of handsets. As we previously
reported
, Verizon and Skype's deal is supposed to allow Verizon users to use Skype to make free Skype to Skype calls over Verizon's 3G network. The carrier's customers are also supposed to be allowed to make International calls using Skype's low rates and send IM's back and forth to Skype users while being able to check to see which friends are currently online. According to the tipster, Verizon customers only will get the package of goodies thay they will receive from Skype. No other network will have the same support and services from Skype. And that brings us to the other part of the story.
Gigaom has learned that the Skype app for the iPhone 3G network has been delayed because of the former's worry about whether or not AT&T's 3G network can handle the service. The company's CEO Josh Silverman told the site than an iPhone upgrade would come "Very soon." But is this just a coincidence? An exclusive deal is set with the carrier that would most like to stab Apple's touchscreen device in its heart and then the iPhone app is held back due to AT&T's pipelines? You do the math.
Apple iPhone 3GS Specifications
|
Review
source:
Gigaom
via
BGR