Siri uses just 63KB per query, has a "negligible" effect on mobile data traffic says a carrier CTO
8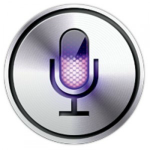 There have been reports, based on a network research company's note, that Siri is responsible for overloading carrier networks where the iPhone 4S is sold, since it has to connect to Apple's servers each time to process a query. Now a board member of Siri from the times it was an independent company, has written a nice piece to debunk this myth.
Siri, he says, uses just 63KB per query; if the average user is firing it up 15 times a day, and that's probably a stretch, it will consume just 28MB per month, which is a far cry from Siri being responsible for doubling data usage since the iPhone 4S inception.
The author doesn't dispute the fact that smartphones are the ones causing network congestion, but rather says it is the combined efforts of video streaming sites like YouTube, remote storage and syncing services like iCloud, music lockers like Google Music, and so on, that are driving our data consumption up and away, not just Siri.
In fact, a CTO of a major European carrier has mentioned that they have been analyzing mobile data traffic to determine where this surge in consumption stems from, and found out that Siri had a "negligible" effect on the matter, so iPhone 4S users seem absolved of the data hog accusations for now.
source:
WashingtonPost
&
Forbes