On iOS 12, Siri should be able to interact with third-party streaming media apps
3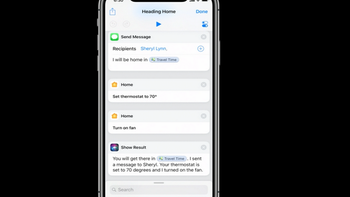 With
Google Assistant and Alexa considered the top two virtual personal assistants
, Apple knows that it needs to open up Siri if it wants to catch up. So in iOS 12, Apple will allow Siri to interact with streaming media apps thanks to Siri Shortcut. Introduced earlier this week at WWDC, the latter allows users to set up a series of events that would take effect under certain conditions. For example, users can set up a "Heading Home" shortcut that would alert Siri on your drive home to set the thermostat in your house to a certain temperature, turn on certain lights, check out Maps for the best route home, send texts and stream a certain radio station on the phone (see image at the top of this article).
The new feature could allow an iPhone or
HomePod
user with a Spotify account to request songs from a particular artist or playlist when certain actions take place. Ideally, the third-party app would open automatically once the chain of actions was set off, even with your iPhone in a pocket. Once a song starts playing, users would be able to call on Siri to control playback including skips and volume. HomePod users would have to build the shortcut on their iPhone first, before requesting songs by artist, or a playlist.
The whole process is a lot more complex than the way Siri works on Apple Music. With the streaming music app, Siri can control just about every possible action a subscriber could request through a simple voice command.