Siri getting new voices, languages, commands, and Bing
26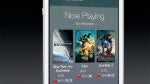 There are a ton of updates to iOS in version 7, and we've been scrambling to cover them all for you. Apple has shown off a bit what you should expect to see with Siri in iOS 7. The updates are a lot of what you might have been hoping for with Siri, including new voices, languages, commands, and maybe one thing you didn't necessarily want: search results by Bing.
The new voices for Siri sounded really nice in the limited demo we heard during the keynote. Users now have the choice to have either a female or male voice, as well as new voices for various languages. A French language voice was shown in the demo with more languages promised. Although it wasn't shown in the demo, we assume the new voices will have more personality.
The look of Siri has been overhauled to have the new simplified and transparent look of iOS 7. And, there are a number of new commands, including options for changing system settings.
Of course, Siri is also a search tool, and the results will now pull from both Wikipedia and Twitter, so you can ask for status updates from people you follow. The one big change that could annoy some is that web search results are now being brought to you by Bing, not Google. Apple has been working hard to remove Google from the equation, and the switch to Bing will go a long way with that. We just wonder where Apple will turn if/when Windows Phone becomes a major threat to iOS market share.
source: Apple