Silicon warriors: Snapdragon 801 vs NVIDIA Tegra K1
53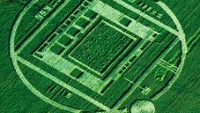 Qualcomm used the MWC expo to announce its new
Snapdragon 801
family of processors, which power spring flagships like the
Galaxy S5
, or the
Xperia Z2
. We already
compared it to the previous, Snapdragon 800 family
, and now it's time for a cagematch with another candidate for glory this year - Nvidia's new
Tegra K1
mobile processor.
Tegra K1 is expected to land in Android devices before we dive deep into the summer, and shapes to be a monster chipset, with a 64-bit version on the way, too. We aren't even talking about the quad-core Cortex A15 processor here (plus a low-power companion core), as the beauty lies in the 192-core Kepler GPU. Yep, you read that right, the desktop-grade Kepler graphics are coming in a mobile form, whether you need that much pixel-pushing for Android games, or not. You'll certainly need them for the 4K video rendering, or shenanigans like real-time face expression overlay, like the one you see in our K1 hands-on video below.
The Adreno 330 GPU in Snapdragon 801, however, runs on 578 MHz, while the Kepler GPU in Tegra K1 is clocked at 950 MHz, so there might be issues with power consumption and heat. Nvidia claims that, while K1 outperforms both the Xbox 360 and the PS3, it consumes much less energy. The power consumption might still need work when it comes to mobile devices, though, as
the reference kit was reportedly running at the whopping 35 to 40 watts
. Nvidia said it will be able to shoehorn the K1 into the sub-2W category under non-peak loads, which should put it on a fairly equal footage with Snapdragon 801.
Build process
CPU
GPU
Open GL
eMMC
Memory interface
AnTuTu score
Tegra K1
(Lenovo ThinkVision 28)

28nm

Quad-core 2.3 GHz ARM Cortex A15

950MHz
192-core Kepler

OpenGL 4.4

v. 4.5

64-bit LPDDR3

43617

Tegra K1 64-bit reference device

28nm

Dual-core 2.5 GHz Project Denver

950MHz
192-core Kepler

OpenGL 4.4

v. 4.5

2x64-bit LPDDR3

43851

Snapdragon 801 MSM8974-AC
(Galaxy S5)

28nm

Quad-core 2.45 GHz Krait 400

578MHz
Adreno 330

OpenGL 3.0

v. 5.0

2x32-bit LPDDR3-1866

36469
There aren't many exhaustive benchmarks on K1 and Snapdragon 801, simply because they are quite new chips, with only a few devices carrying them. Still, the following chart should give you a pretty good overview of what to expect from Tegra K1, in comparison with Snapdragon 801, as well as some other current or upcoming chipset.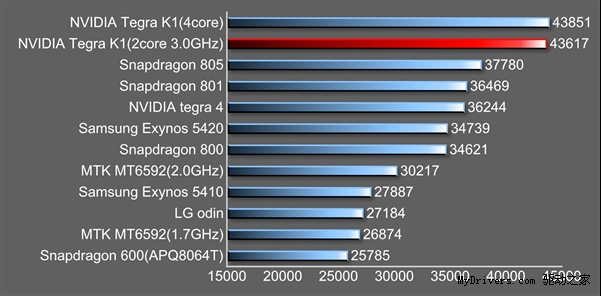 AnTuTu scores of NVIDIA Tegra K1 reference platforms, compared with popular chipsets
Overall, as you can see from the benchmark chart above, the 32-bit and 64-bit versions of Tegra K1 are on equal footing when it comes to raw performance. Granted, they beat Snapdragon 801 with about 20% here, but let's not forget that the measurements have been done on K1 reference platforms, like the one you see in the video below, while Qualcomm's chipset is in actual smartphones at the moment.
When NVIDIA shoehorns Tegra K1 in a lesser power envelope, suitable for phones and tablets, its general performance could very well even out with this year's Snapdragon crop. Granted, the Kepler GPU is likely to give it an advantage in the graphics department, but the Snapdragon SoC offers plenty of unsurpassed value, like a multiband LTE modem, so it would be preferable for manufacturers to use. In short, we'd have to measure the performance of actual phones and tablets with Tegra K1, before we declare it a winner, even with a 192-core GPU, and even in comparison with Snapdragon 801, let alone the upcoming
805
.