Shouldn't be a surprise: smartphones make you more social, not less
11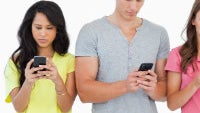 It is a popular complaint/joke to make saying that people are becoming less social because of smartphones. Of course, if you think about it for a few seconds, you'll likely realize that isn't true; and, now there is a study that shows smartphones make us more social, not less. You may think that people tend to ignore those around them in favor of their smartphones, but the data doesn't bear that out.
Back in 2008, Keith Hampton decided to do a study by setting up cameras in public spaces like New York's Bryant Park and the Metropolitan Museum of Art, and compare what he saw with footage of those same areas from the 1970s. After observing thousands of hours of people in those public spaces, Hampton and his team found that smartphone were rarely used in groups. Most smartphone users were alone and killing time on a break or waiting to meet someone. They just seemed more noticeable because smartphone users tended to "loiter" for longer times than those who didn't use their phones.
And, while this idea wasn't present in the original
New York Times
article, we would also mention that those who were killing time on their phones weren't only playing games, they were interacting with other people remotely via email, text, messaging, or social networks. So, even some of those people found in the footage who were "alone" could have still been engaging in "social" activities.