Shiny or matte: how do you like your phone's surface?
34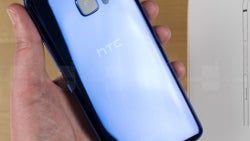 Using glass and metal as main design components is nothing new in the smartphone world – the
iPhone 4
did it way back in 2010, Sony's
Xperia Z
line had it for ages, and so on. The drawbacks and benefits of a glass back are pretty clear — we have a very shiny, eye-catching material, however, it quickly becomes ugly when it picks up our fingerprints and needs constant care to stay clean.
With companies coming up with various finishes and ways to make light reflect off of a phone's paint job, it looks like the shiny surface isn't going away. Ergo, we guess that customers are far from tired of the fingerprint magnets.
But we thought we'd ask you — our readers — on your thoughts about shiny vs matte and what type of material you like to feel in your hand.