Sharp IGZO displays find customers, to arrive in Q2 2013
5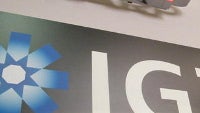 Sharp's IGZO display technology is innovative in that it reduces significantly the power hunger of screens, and it was earlier rumored to even come on the iPad mini. Truth is, LG Display (mostly) and AU Optronics are the two main
suppliers for the 7.9-inch Apple tablet
, but good news is that IGZO displays will be coming to devices in the first quarter of 2013 in Asia, and the second quarter of next year for Western market.
"A domestic company will probably offer products using IGZO display panels from the first quarter of the calendar year,"
a senior Sharp executive said.
"As for foreign brands, you will probably see such products in the second quarter."

Earlier Sharp had struggled to find customers for its new screen technology, but now it seems those problems are largely gone.
Sharp will first start offering IGZO screens in Japan with the 4.9-inch Sharp Aquos phone and a 7-inch Aquos Pad tablet.
source:
Bloomberg