Sharp Aquos 206SH is unveiled: the 1080p monster phone with 2-day battery life
37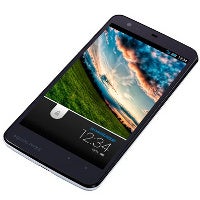 The Sharp Aquos 206SH is a smartphone that will arrive in Japan and is highly unlikely to get to our side of Earth, but it's still a device worth the mention. The Aquos 206SH packs all the features of a high-end smartphone like a 1080p 5-inch screen and a quad-core Snapdragon S4 Pro, but it also includes a whopping 3080mAh battery that allows it to last nearly two full days of average use.
Got you interested? The Aquos 206SH uses the interesting CG Silicon TFT LCD screen technology for the 5-inch display as well. That allows for a thinner and more efficient screen, and paired with the "Eco Tech" mode should withstand two days on a single charge. Sharp has actually tried new display technology in Japan for a while now as last time it launched its IGZO battery efficient screen tech on the Japan-bound AQUOS TAB SHT21.
The 3080mAh battery is actually only slightly less capable than the one on the Samsung Galaxy Note II phablet.
This Sharp Aquos 206SH is coming to Japan's SoftBank (the same one that plans to acquire U.S. third-largest carrier Sprint) in late June. The handset features a 13-megapixel camera with wide f/1.9 aperture, 4G LTE, TV and runs on Android 4.2.2 Jelly Bean. It's also waterproof, take a look below.
source: Sharp via
SlashGear