Sharp AQUOS Crystal versus Apple iPhone 5s: first look
16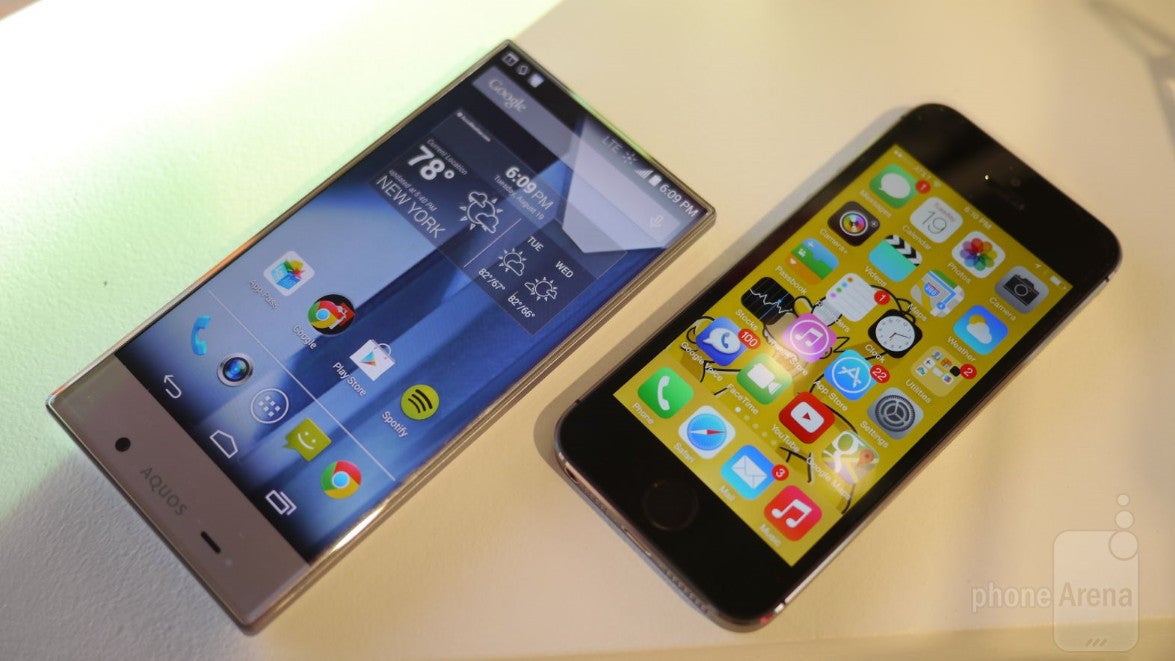 As we near the inevitable holiday season, we know that we're on the verge of hearing, and eventually seeing the next-generation iPhone – whatever name Apple so happens to give it. When the time comes, it's only natural to assume that the existing iPhone 5s will see its price lowered to make it a competitive offering in the mid-range category, which seems to be the trend if we're to look at history. Now that the Sharp AQUOS Crystal has been announced, this edgeless display packing smartphone is already winning us over with its tempting price point.
Design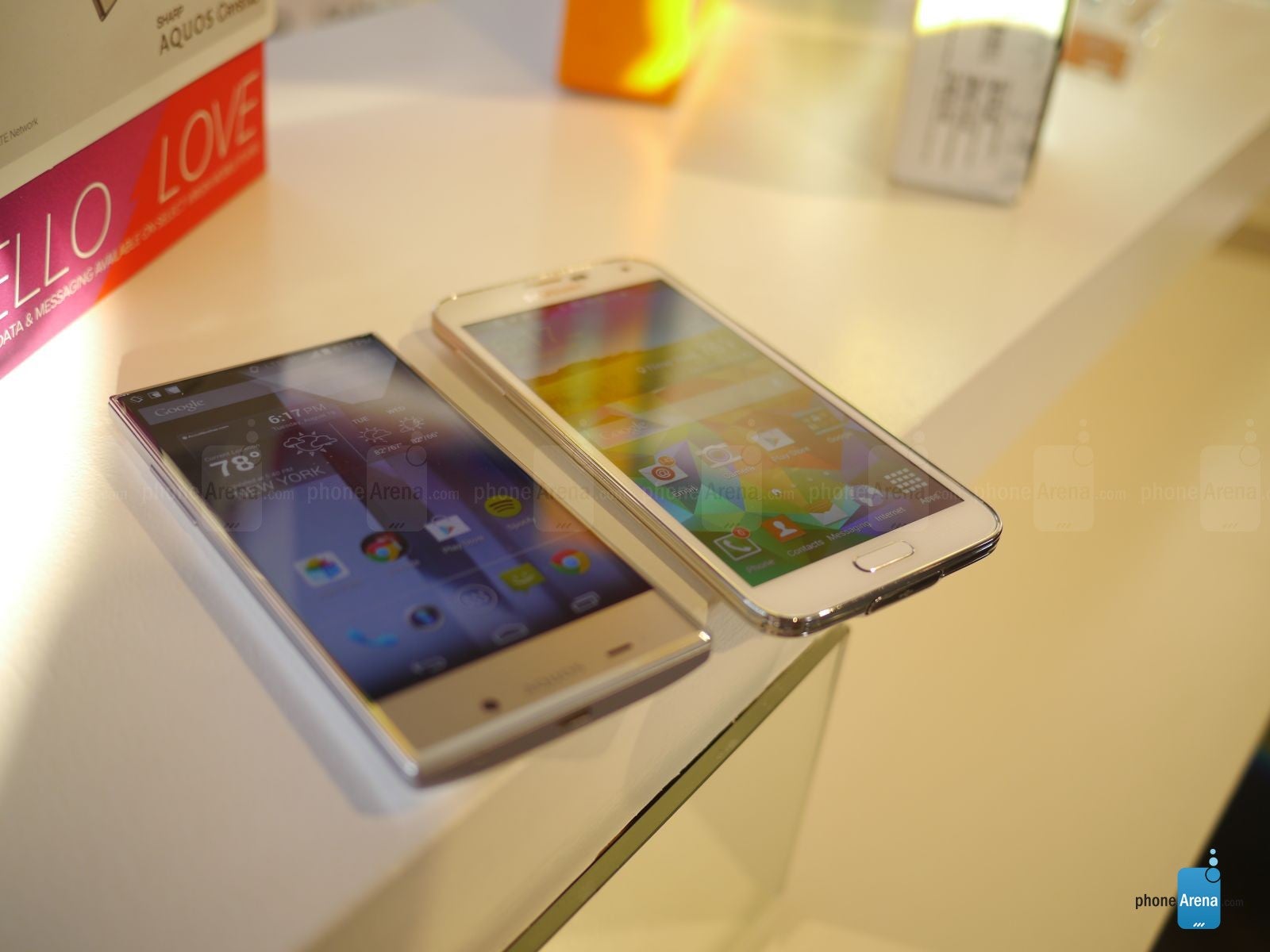 Staring at the two, there's no denying the strong attraction our eyes are feeling with the Sharp AQUOS Crystal. Quite simply, its edgeless display is an instant attention grabber over everything else – it's just different, you know? Positioned as a mid-ranger, its mostly plastic construction might not be thought as highly quality, but its hard-lined design cues give it a stylish and distinctive look.
Conversely, the iPhone 5s wins us over for its premium construction, high-quality choice of materials, and easy-to-grasp frame. However, the Sharp AQUOS Crystal's size is pretty manageable on its own – rivaling that of the iPhone 5s' slim size and lightweight feel. Considering that there's a whole 1-inch difference in their display sizes, it's pretty amazing that the Sharp AQUOS Crystal is just marginally larger.
Display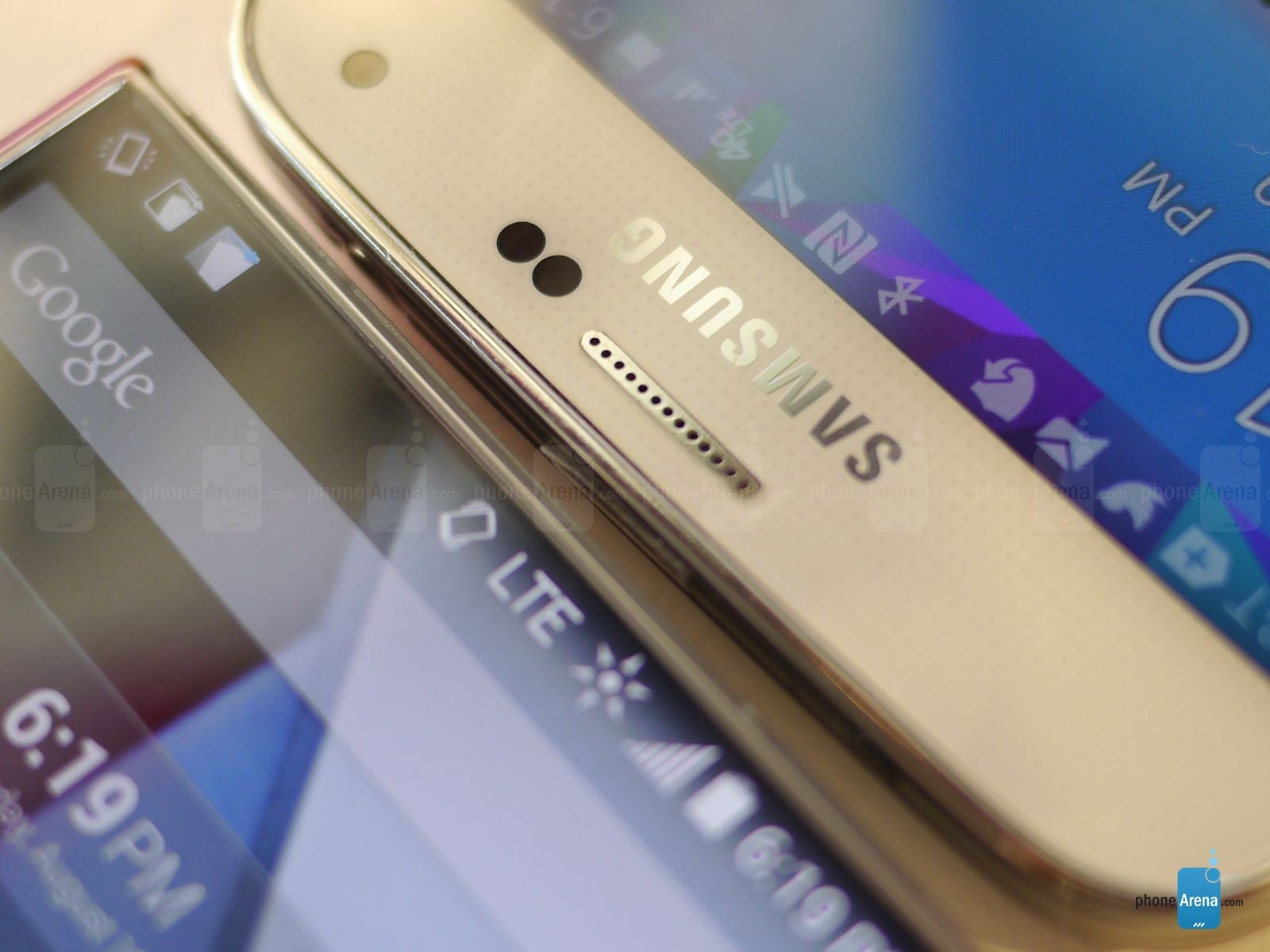 Reading into the specs, the Sharp AQUOS Crystal sports the higher resolution between the two – 720 x 1280 pixels versus the 640 x 1136 resolution of the iPhone 5s' Retina display. Even though Sharp's offering bests the iPhone 5s in this area, the 5-inch size of the Crystal's display gives it a lower pixel density count of 294 ppi, which is a smidgen beneath the 326 ppi figure of the 4-inch sized Retinal display.
Regardless, we can proclaim that the two are sharp and detailed enough, especially from a normal viewing distance – making it tough to even distinguish the slight superiority of the iPhone 5s on paper. Other lovable qualities between the two displays are present, like their crisp viewing angles, potent brightness output, and superb color production. However, what keeps our eyes rolling back to the Sharp AQUOS Crystal's display is the minimal bezel around its top and sides – it's just mind blowing to tell you the truth!
Interface
This is a pretty easy comparison, mainly because we've compared and contrasted the main benefits of each platform experience. At the core of it all, iOS has the simpler and more intuitive flow, which makes it easy for first-time users to learn from the get-go. Still, the Sharp AQUOS Crystal's stock Android 4.4.2 KitKat experience is nearly in the same playing field – though, its vast personalization options and enhanced functionality might be overwhelming for those who have yet to take the plunge with a smartphone.
At the end of the day, the two opposing platforms have their unique qualities. Before, iOS would normally see more love when it came to third party apps, but the gap has been lessened over the course of the last couple of years, since Android as a whole gets treated to nearly the same quality apps offered by iOS.
Processor and Memory
Without going into some crazy operations, these two smartphones are able to exhibit nearly the same responsiveness with basic operations. Specifically, the Sharp AQUOS Crystal features a quad-core 1.2GHz Qualcomm Snapdragon 400 SoC with 1.5GB of RAM, which isn't all that menacing when we think about it. Meanwhile, the iPhone 5s is blessed with a dual-core 1.3GHz Apple A7 processor with 1GB of RAM. On paper, it looks less aggressive, but we have to point out that it's based on 64-bit architecture – and in our own experience, we know it's more than capable of handling the most intensive of operations.
Unfortunately, Sharp's new smartphone is only packing a measly 8GB of internal storage, which is well below the average nowadays. Well, there are options at least when going with the iPhone 5s, seeing that it's available in 16GB, 32GB, and 64GB capacities.
Camera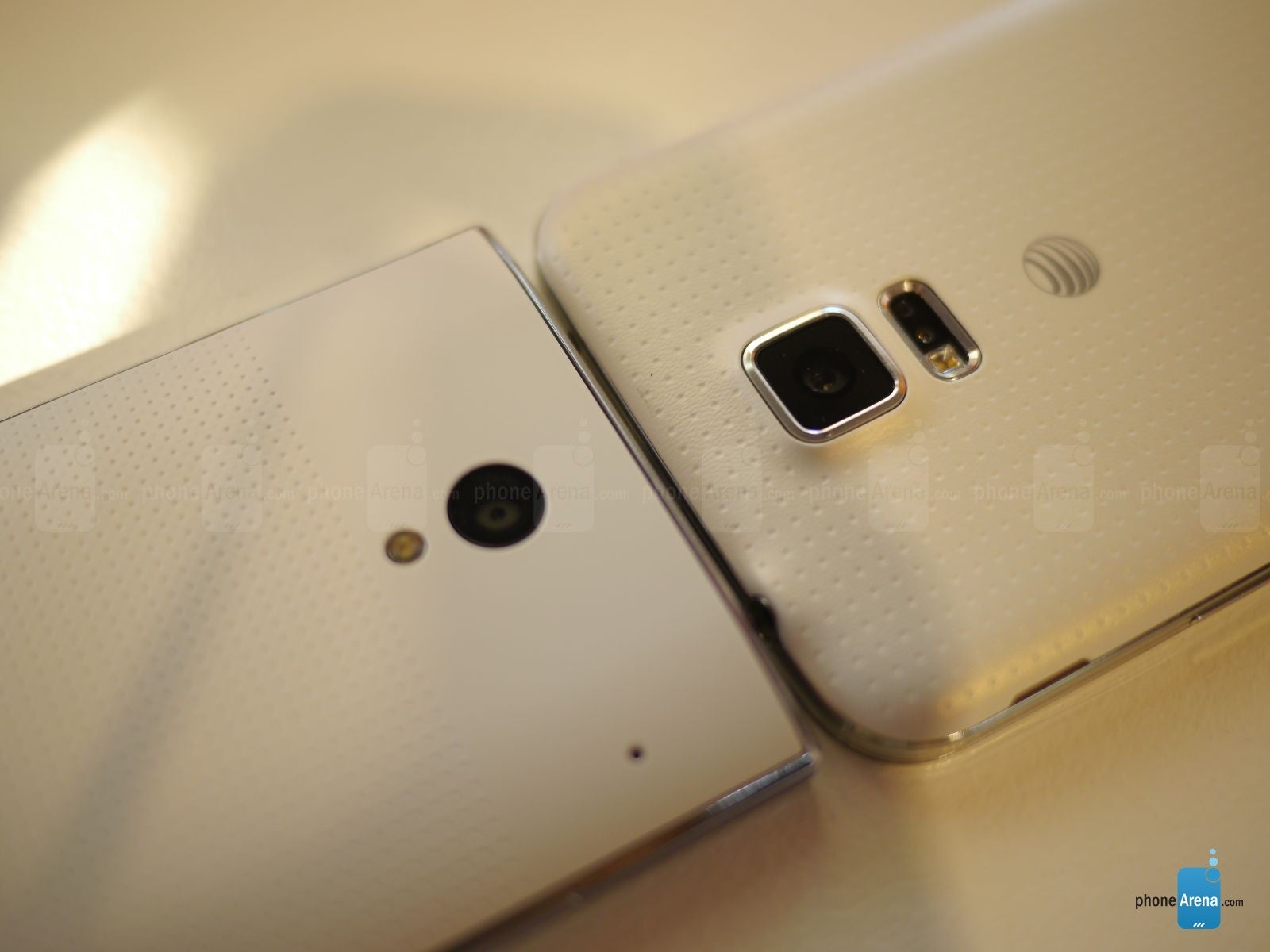 Yet again, the two seem to match one another on paper because they bear 8-megapixel cameras. We know what exactly the iPhone 5s is capable of producing with its camera, especially when it's usually a top finisher in many of our photo comparison articles. However, we're in the dark with the Sharp AQUOS Crystal's quality, so it'll be intriguing to find out exactly what it can compile.
Expectations
Apple surely has it easy, since the iPhone 5s, as we know dearly, is one of the most popular smartphones around. That's not particularly too shocking, more so considering that it actual excels highly in many key categories, which is what a phone needs to do to earn adulation and respect. Sharp is entering a competitive market, but its new AQUOS Crystal isn't going to be competing directly against the iPhone 5s.
With its mid-range status, it has the leg up now in terms of pricing – where it'll be available for free with a 2-year contract through Sprint. Of course, the iPhone 5s' $200 on-contract pricing is double that of the Crystal, but when the new iPhone is released, we can certainly see the price of the 5s dropped to nearly the same level as this newcomer.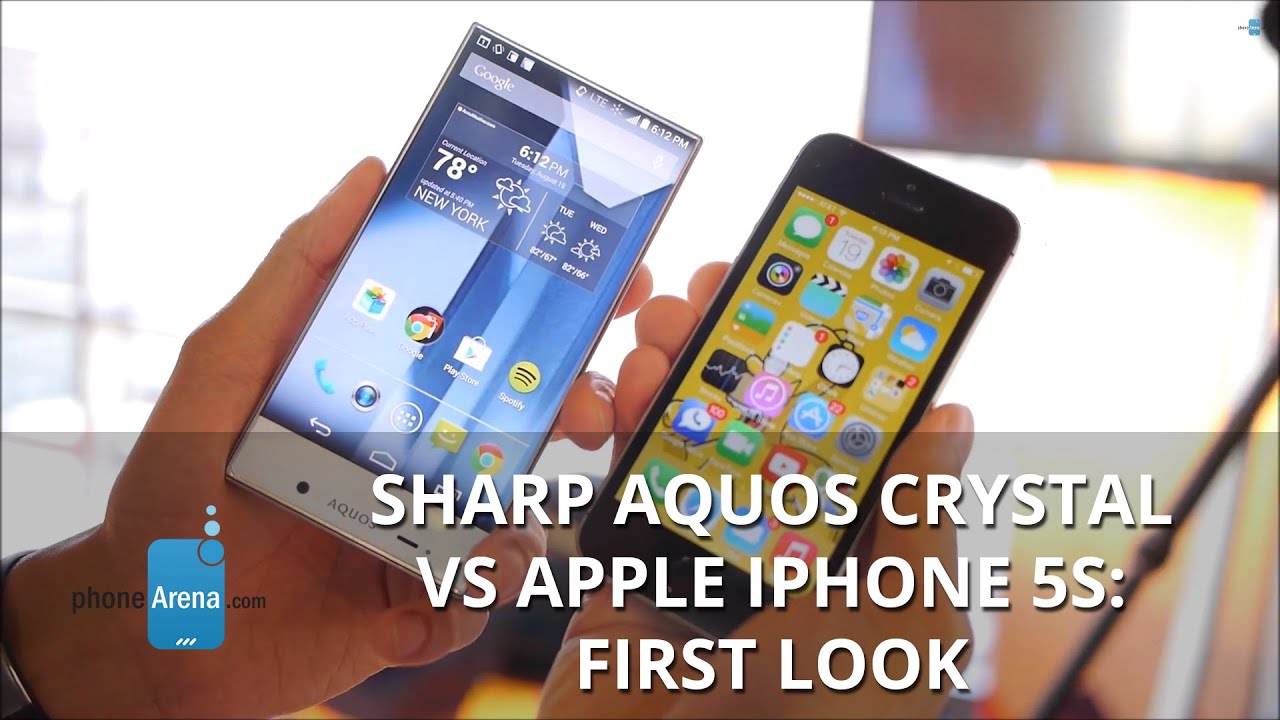 Recommended Stories