Sergey Brin says "The cell phone is a nervous habit"
14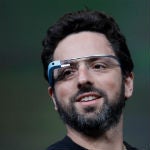 Sergey Brin has been one of the driving forces behind many Google products. Where Larry Page was always expected to become the CEO of Google, Sergey always planned to stay engaged in products. This is one reason why we've seen
Sergey wearing Google Glass
almost nonstop for the past year, and today Sergey explained why he is so passionate about Glass, even going so far as to say that "the cell phone is a nervous habit".
Sergey made a surprise visit to the TED conference today, and spent about 10 minutes talking and showing off Google Glass. He said that the product was important because of how we've become attached to our smartphones, and how they can distance us from real world experiences, saying about phones:
We often question if this is the way you want to connect with the people in your life. I feel it's kind of emasculating. You're just rubbing this featureless piece of glass.
Brin went on to say that his wife still uses a BlackBerry exactly because it isn't "featureless" and at least offers some sort of tactile feedback. He went on to say, "The cell phone is a nervous habit. I whip this out and look as if I have something important to do. [Google Glass] takes that away."
We have to agree with this estimation, because we have certainly felt the pull of that "nervous habit". It's a common argument against the way we use our smartphones that they tend to distance us from real experiences. We don't see concerts anymore, we just see the video of it that we're recording on our phones. We don't connect in real life, only on social networks.

We have confidence that Google Glass could help to lessen the "nervous habit" and maybe bring people back to the real world, but there were shy people before smartphones and there will be shy people as we go forward. So, we don't expect that much of a social revolution once we're pulled back from our phones.