Sentient AI - Google Now On Tap adds contextual awareness to the voice assistant
5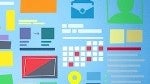 At I/O 2015, Google announced the addition of extended natural language processing capabilities to Google Now, Android's voice assistant. Dubbed Now Tap, the featured can be summed up as Google Now with a whole new understanding of contextual awareness. On stage, Google demonstrated how having the music player rocking a Skrillex tune makes Google Now relate the question "what's his real name" to the artist and intelligently display the relevant information.
Later, Google Now fixed its sights on a typical message conversation. The algorithm recognized the opportunity to automatically add a reminder for the user to carry out a particular task - get the dry cleaning. It also went on to show the coordinates and set up an event for a dinner at a restaurant in Palo Alto.
Showing its newfound skills in human language understanding, Google Now automatically opened up a list of upcoming weekend movie screenings when it heard the user was going to catch a movie with a friend. It also displayed information about a particular title, complete with shortcuts to its trailer on YouTube, IMDB information, ratings, critical reviews, and everything else movie-related.