Sensation 4G vs Galaxy S II vs G2x vs ATRIX 4G: specs comparison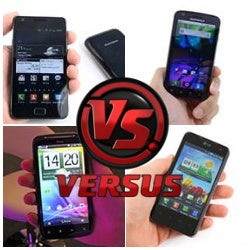 In the latest battle of epicproportions, dual-core behemoths meet the new contender: the
HTC Sensation 4G
. Does it have the technical guts and software polish to winthe dual-coreathon kicked off by the
T-Mobile G2x
and
Motorola Atrix 4G
? To see its prospects we broke down specs meticulously, but before jumping into that let's mention the software that runs the show.
HTC takes pride in itsflashy
Sense UI
and in its newest 3.0 version it has quietly improved notonly the looks, but the functionality as well with dynamic updates ofwidgets straight from the lockscreen. To support its memory-hungrymuscle, HTC has included 768MB of RAM and a 1.2GHz Qualcommprocessor. Samsung's
TouchWiz UI
is much less demanding, but you don't get that many snazzy effects, but rather a clean down-to-business interface. It's those two handsets that will come out with Android
2.3
Gingerbread, giving them a slight
edge
over the Froyo-powered T-Mobile G2x and Motorola Atrix 4G. While LG went with vanilla build of the green robot, Motorola chose the controversial Motoblur skin.
In terms of hard silicon, the Sensation 4G matches the clock speed of the Galaxy S II, but its slightly less RAM leaves it second. The Galaxy S II also scores a first with Bluetooth 3.0 + HS, capable of delivering 21Mbps transfers and we're eager to test it. And here's the tale of the tape: the
Samsung Galaxy S II
stands out with its razor sharp 0.33" body and unmatched weight of 4.09 ounces. The rest is the poetry of numbers and we'll let you enjoy it in the detailed breakdown below. Already got a favorite? Feel free to leave your opinions in the comments below.