Selfie camera comparison: LG G Pro 2 vs LG G2, Galaxy Note 3, Galaxy S4, HTC One (2013), Xperia Z1, iPhone 5s, and Nexus 5
34
Introduction
Looking at the smartphone world, it suffices to say that we're definitely not in Kansas anymore. This is a war zone, and there are billions upon billions of dollars held as prize. And that's more than enough motivation for most companies in the industry, who have rushed in, wanting a piece of the oh so seductive pie. And while us, the consumers, are lucky to be on the receiving end of this ruthless competition, it has meant that smartphone vendors have to increasingly push for more and more polished products. One such exemplary area, as you probably have guessed already, is the front-facing camera.
Today we're pitting eight major flagships currently on the market against each other and taking scores.
Now, this is still on the sidelines when it comes to priorities manufacturers set for themselves, and that is likely to continue in the future. That's absolutely normal. But there's still a palpable push in this direction. In fact, at this rate, it won't be long until pixelated selfies and shoddy video calls are a thing of the past. What's more,
one of our latest poll indicates that many of you indeed are concerned about the quality of front-facing shooters
. And you know us, we just love putting things to the test. Which is exactly what we did.
Today, we're pitting eight major flagships currently on the market against each other and taking scores. We will be testing several areas that we deem most crucial to any one camera, but specifically a front-facing one: amount of details, color reproduction, size of the field of view of the lens, and video capture. Before we get into this, do acquaint yourself with what each of our contestants today brings to the table by checking out the summary right below.
| | | | |
| --- | --- | --- | --- |
| | Resolution | Video | Features |
| LG G Pro 2 | 2.1MP | 1080p@30fps | Voice shutter, Beauty shot, Dual camera/Dual video recording, Night mode |
| LG G2 | 2.1MP | 1080p@30fps | Voice shutter, Beauty shot, Dual camera/Dual video recording, Night mode, HDR video |
| Galaxy Note 3 | 2MP | 1080p@30fps | Beauty face, Best photo, Best face, Sound & Shot, Burst shot, Face detection, Voice control |
| Galaxy S4 | 2MP | 1080p@30fps | Beauty face, Best photo, Best face, Sound & Shot, Burst shot, Night mode, Face detection, Voice control |
| HTC One (2013) | 2.1MP | 1080p@30fps | Face detection, Effects, HDR |
| Xperia Z1 | 2MP | 1080p@30fps | HDR, AR effects, Smile shutter, Soft skin effect, Image stabilizer , Burst shot |
| iPhone 5s | 1.2MP | 720p@30fps | Face detection, Effects, HDR |
| Nexus 5 | 1.3MP | 720p@30fps | Scene modes, Face detection |
Ready? Let's see what these specs translate into.
Strong light
Let there be light! Man, these are not half bad when there's plenty of sun. Sure, the pixel count is laughable compared with what you have at the back, and yet most of our contestants managed to capture enough photons to deliver a passable snap (and selfie). Of course, zooming even a little bit quickly confirms the lack of detail, but there's still enough of it with every smartphone we tested.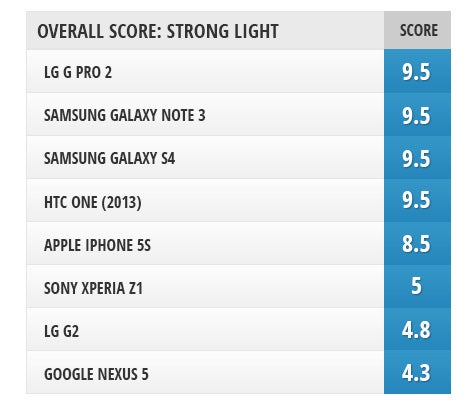 Prime among our contestants are LG's G Pro 2, HTC's One (2013), and Samsung's Note 3 and Galaxy S4, all of which produce stills that offer a great amount of fine detail and proper color reproduction.
Apple's 1.2-megapixel camera comes a close second, as though its shots are both detailed and compelling-looking, target colors deviate from what we were seeing in real life significantly. They're both overstated, and much warmer than in reality, and this costs the 5s.
The Sony Xperia Z1 and the LG G2 are pretty much on par, but still far behind the best. Specifically in the case of the Z1, colors are rendered fairly well, but they're still lifeless, and a massive portion of the shots remains blurry. The situation is slightly more serious with the G2, which persistently adds a severe purple fringe on top of all stills, all the while also failing to offer a detailed shot.
The Nexus 5, with its 1.3-megapixel sensor is rightfully at the very bottom of the ranking. The snaps its front-facing unit produces are of palpably lesser quality, as both detail and color reproduction are lagging behind the competition. That's the price to pay for a "budget flagship" -- shortcuts were, indeed, taken.
Medium and low light
Low light environments continue to pose quite the challenge for even the most sophisticated rear snappers out there, so a sense of dread was definitely in the air. Obviously, we left out complete darkness scenarios out of this test, but we still went through our usual studio routine. After studying the results, we can confidently say that even very low light scenarios won't render a selfie completely impossible. There's a catch, of course -- slow shutter speed. In other words, you better freeze when taking low light snaps, for rapid movement will result in a blurry mess.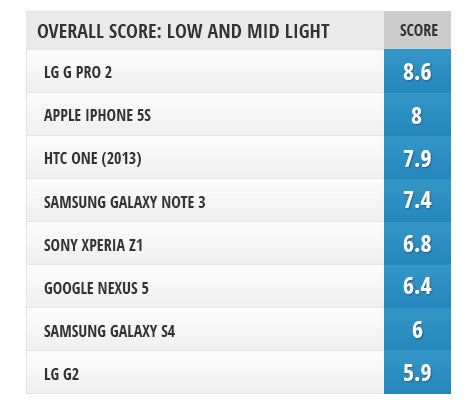 In any case, the LG G Pro 2 proved the most capable when it came to resolving detail and preserving natural-looking colors in challenging lightning environments. Apple's iPhone 5s comes as second best, as we're able to make out even fine detail and that really is its saving grace, seeing as the attractive hues of its stills are actually quite inconsistent with reality.
The HTC One and the Galaxy Note 3 also had a pretty good run, though it should be noted that Samsung's phablet is far less predictable, and its camera shifts between offering great and then some poor results.
Finally, and despite its dreadfully lifeless color reproduction under very low light conditions, the Nexus 5 is actually almost on par with the Z1, which is just always mellow in its approach, as if uncertain of its exact purpose. That said, the Z1 remains a perfectly usable selfie cam. The G2 and the S4 occupy the bottom, as, among other things, they occasionally turned up with blurry snaps, and that's just not good enough when compared with the rest.
Note: "studio" samples are shot using a tripod, and are not part of the final score.
Field of view
The size of the field of view (FoV) of the lens is not something we usually talk about with rear cameras on smartphones, but front-facing snappers are a different topic altogether. A large FoV means more people in the shot, and if Bradley Cooper used an LG G Pro 2 instead of a Galaxy Note 3 in
that wildly popular mass-selfie at the Oscars
, perhaps Jarred Leto wouldn't have to settle for having half his face cut off in the most tweeted picture in the history of, well, tweets. Oh, well...
As for the test itself, it's hard to really cast a certain winner, though the LG G Pro 2 and G2, along with the Galaxy Note 3 and the Galaxy S4 all offer an identically healthy field of view, with the Xperia Z1 coming just a notch shorter. The HTC One also deserves a mention, as it offers a downright impressive vertical sweep of capture area. The iPhone 5s and the Nexus 5 unsurprisingly finish last -- they offer the narrowest of selfie areas and by far.
To arrive at the above conclusions, we framed the shots from the eight flagships one hundred percent identically. Check them out.
Video
With stills out of the way, we better take a look at another fundamental of any camera: video capture. Thankfully for all of us, pretty much every flagship on the market today sports a front-facing camera capable of 1080p video capture at 30 frames per second.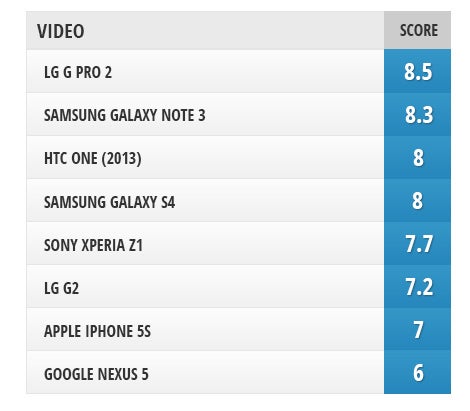 As always, however, there are exceptions: Google Nexus 5 and Apple iPhone 5s users have to make do with 720p capture, for example, and that means a palpable hit in the amount of detail. In the case of the iPhone 5s, we're again pleased with the results, even though the lack of detail keeps it from a higher spot on our chart. However, the same can't be said for the Nexus 5, which again finished last due to the overall lowest quality of its footage and messed up color reproduction.
Looking up, we have the G Pro 2 at the very top, followed by the Note 3. Both offer good amount of details and resolve colors properly, though the Note 3 in particular occasionally has a hard time dynamically tweaking its exposure levels. This sometimes results in a footage that is notably darker than reality. Samsung's other contestant, the S4, also proved to be a great all-rounder, though LG's G2 proved a bit underwhelming. There's just this persistent and really annoying purple hue to footage that pretty much reduces the hard-hitter to its 720p rivals.
Conclusion
This kind of comparison has been long overdue, or that's how we felt at least. With the advent of the smartphone, we're increasingly running into ever more subtle facets of the total package that are becoming more and more relevant as the innovation gap between rival vendors gets narrower and narrower.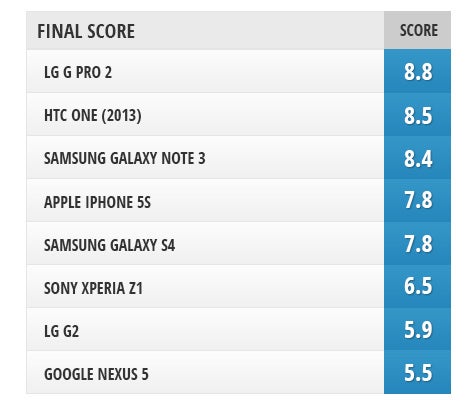 And the results? They speak for themselves, and they actually fall in line neatly with the consumer consensus: the front-facing camera is still mostly a secondary concern. You really see that with a device like the Nexus 5, whose budget price tag obviously forced Google and LG to pick their battles. On the other hand, the traditionally thorough manufacturers, like HTC, Samsung, LG, and Apple, are all slowly but surely picking up the pace. What's interesting, however, is that, as always, you shouldn't blindly go after more pixels, a notion cemented by the iPhone 5s' performance in this particular area.
In the end, the key takeaway from this comparison is that flagships' front-facing cams are now, by and large, capable enough to offer passable results, both in stills and video.