Seesmic giving up on BlackBerry
12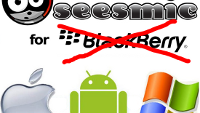 It seems that it isn't just consumers losing interest in BlackBerry, but developers are too. Seesmic has just announced that it will stop developing for the BlackBerry OS in order to focus on iOS, Android and Windows Phone 7 instead.
Seesmic is the maker of a cross-platform social networking app, much like TweetDeck or HootSuite, which acts as a one stop hub for services like Twitter, Facebook, LinkedIn, and FourSquare. In an a blog post today, Team Seesmic said that as of June 30th they will stop support for the BlackBerry OS in order to focus on their "most popular" platforms in iOS, Android and WP7.
BlackBerry has seen a huge drop in market share in the last few years and continues to lose ground to smartphone competitors, and BlackBerry App World has often been criticized for having a limited selection and overpriced apps. This is just another blow to RIM as it is trying to find a space for itself in quickly evolving mobile space.