See the new Apple iPad mini piano ad
26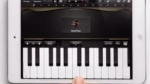 The latest ad for the
Apple iPad mini
is out and it includes the
GarageBand app
which turns the slate into a working keyboard. If the tune is familiar, it is "Heart and Soul" and the duet starts with the full-sized Apple iPad with the left hand followed by the right hand part played on an Apple iPad mini. The song was originally written in 1938 and we're pretty sure that back then no one could predict that some day the tune would be played on a tablet-like device.
The Apple iPad mini and fourth-generation Apple iPad are both now available in the Wi-Fi only configuration. The former costs $329, $429 and $529 in 16GB, 32GB and 64GB versions respectively. The fourth-gen iPad costs $499, $599 and $699 for the 16GB, 32GB and 64GB models. Orders placed today for the cellular version of the tablet will ship in 3 to 5 days.
Add $130 to the Wi-Fi only price
to figure out how much the Wi-Fi + Cellular model will cost you. For example, the 16GB Apple iPad mini with 16GB costs $329 for Wi-Fi only and $459 with the cellular option.
So if you want an Apple iPad mini or 4th-generation Apple iPad with all of your heart and soul, you can just head over to the sourcelink. Hey! We heard that groan.
source:
Apple
via
The Next Web