Second microphone on future iPhone models might be for more than noise cancellation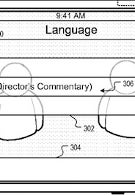 Taking a cue from the Nexus One, Apple's new iPhone 4 has a second microphone that is used for noise cancellation. This allows unwanted background noise to be removed and allows for clearer sound through the handset's speaker. But being Apple, the guys at Cupertino have been working on another use for the secondary microphone-by measuring the amount of ambient noise around the phone, the handset can decide to automatically raise the volume of the speakers. For example, let's say you are watching a YouTube video of a particularly annoying fruit as you are walking from a quiet book store into a noisy restaurant next door. As you walk through the doors, the extra microphone reads the higher level of background noise and automatically increases the speaker on the phone so your ears won't have to strain to catch an animated orange screaming, "Hey Apple". The technology is similar to the sensor that the iPhone now uses to make the screen brighter or darker depending on where you are.
According to the patent filing made by Apple, the device compares ambient noise with a database of background noises to find a match. If the phone matches the noise with a loud environment, the volume on the speakers automatically rises in volume and could also show subtitles on a movie you are viewing if the sensor feels it is necessary. The library of "noisy environments" could be stored on the phone or on a network. The whole idea is to allow you to watch a movie or multimedia presentation from start to finish without having to pause to change the volume or add subtitles.
Apple iPhone 4 Specifications
source:
AppleInsider