Second gen Windows Phone devices coming this Christmas
20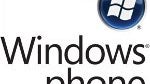 According to Microsoft head man Steve Ballmer, we can all expect to see the second generation of Windows Phone devices coming out around Christmas this year.
Ballmer was seen speaking at the Microsoft sponsored Imagine Cup. During his opening speech this is what he had to say about Windows Phone:
"Windows Phone. You know, a year ago we didn't have a phone in the market. Now, we're charging forward with Nokia. We have the second generation of our phones coming out this Christmas, and people are starting to do things they had never imagined before. I love the applications that I saw for the Windows Phone from the people in this room, and the way you're pushing that device, and using that device. It was really exciting for me."
It shouldn't be any surprise that Ballmer is happy with the way things have gone so far given the moderate success they have seen despite the operating system's infancy and its strong competition.
Christmas should be an exciting time this year for Windows Phone enthusiasts especially if that is the time frame we will start seeing what type of hardware Nokia will bring to the table. Tell us what you think in the comments below.
source:
Neowin.net
via
WMPoweruser