Screenshots show blue Motorola DROID RAZR with release expected May 17th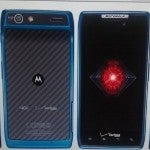 Android Central
obtained a screenshot of an internal Verizon website
that shows a blue version of the Motorola DROID RAZR
. Another screenshot shows that the model is expected to hit the market on May 17th. While no pricing information was revealed, the blue Motorola DROID RAZR will no doubt be priced at the same $99.99 with a signed 2-year contract that the other versions of the phone are selling for. Presently the handset is available in black, white and purple
with the latter two colors added at the beginning of this year
. The specs will also remain the same which means the unit will sport Android
2.3
.
The Motorola DROID RAZR has had a rather sharp drop in price since it launched last November at $299.99 on contract. Once the Motorola DROID RAZR MAXX was released with its 3300mAh battery, the former was reduced to a contract price of $199.99 at the beginning of 2012
and now is tagged at $99.99 on contract
. With
a Motorola DROID RAZR HD having been leaked
, we could see another price adjustment across the DROID RAZR line soon, perhaps including the Motorola DROID RAZR MAXX. The latter remains at a $299.99 price level with a signature on the dotted line of a 2-year pact.
source:
AndroidCentral