Screenshots show a slightly revamped new interface with Google's site for iOS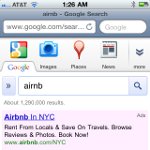 Although there is no mention of Google expecting to update its site for
iOS devices
, it seems that one of our readers managed to stumble upon possibly a
new revamped experience with Google's web site
.
As you can tell from the screenshots provided to us, the layout now includes the addition of some icons to specify the various categories of your search, which include things like searches, images, places, and news. Naturally, there are some additional ones that can be accessed by pressing the drop-down icon. Interestingly enough though, there is also a separate category for apps that show some of the most common services offered by Google – like YouTube, Buzz, Translate, and Maps.
Obviously, it seems that Google is trying to emulate the feel and presentation of the desktop experience, but fitted to work accordingly with iOS. Strangely, after some time browsing the new layout, our reader says that it reverted back to the original style – so it's unknown when or if they'll roll out this new interface. Have you stumbled upon this new look as well?
Thanks Kyle!
If you have some interesting info that you'd like to share with us, feel free to
Tip Us!