Scotland uses SMS crowdsourcing to track squirrel populations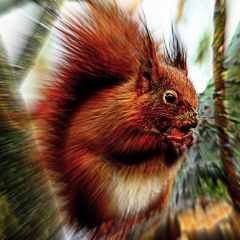 Crowdsourcing
, which pools the efforts of the general public for a specific cause, has found an environmental purpose in Scotland. Residents of Aberdeen have been asked to participate in the 'Text-a-Squirrel' program, in which citizens report sightings of either red or grey squirrels in the city.
It might sound like an inane task to occupy citizens' time, but the red squirrel is a protected animal, whose population is rapidly dwindling. With only 121,000 red squirrels left in Scotland, Scottish environment minister Roseanna Cunningham is quick to point out that the red squirrel is one of the most "iconic and beautiful species" in Scotland.
To participate, citizens are encouraged to watch out for red and grey squirrels between March 11th and March 25th. They then send a text to 88802, with "RED" or "GREY" in the body, as well as a general location for the sighting. Their previous effort in October gathered 154 sightings, which gave them a sense for the squirrel populations. But now they want to know how the squirrels endured their unusually harsh winter.
We think this is a great concept for the environmentally conscious smartphone-user. We would suggest an app that would give you a simple list of protected or endangered animals in your region, and then all you have to do is select the species, and indicate a quantity. The app could also integrate your GPS radio, so you wouldn't have to describe the sighting's location.
source:
STV
via
Gearlog