Schmidt: Cook 'misinformed'; Google is more secure than Apple
32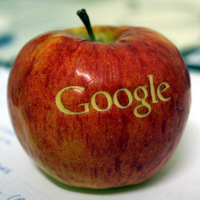 Eric Schmidt, Google's executive chairman, attempted on Thursday to set the record straight about which company is more secure, Google or Apple. An open letter written last month on Apple's website from its CEO Tim Cook, referred to an unnamed internet company that uses information from its subscribers to make money. Cook obviously was referring to Google, and Schmidt was eager to lecture Apple's top executive.
The Google executive replied to Cook's written jabs by saying that Cook was misinformed about Google's policies. He stated that Google is the leader in security and encryption, and that Apple is just now starting to catch up to Google.
"Someone didn't brief him correctly on Google's policies, that's unfortunate for him. In Google's place, we have always been the leader in security and in encryption. Our systems are far more secure and encrypted than anyone else, including Apple. They're catching up, which is great."-Eric Schmidt, executive chairman, Google
As for the monetization comments, Schmidt did admit that Google sends out ads with Gmail, but it is something that the company has been doing for a decade. Cook had stirred up the Google executive by making the comment in his open letter, "
When an online service is free, you're not the customer. You're the product
."
source:
CNN
via
AppleInsider