Saygus V-Squared is a dual-boot, waterproof "super smartphone" that already won a CES 2015 award
40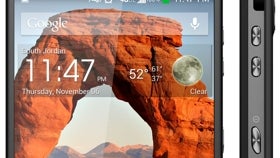 Saygus is a US-based company that hasn't been in the news in the last several years, but now it's back with what it's calling a "super smartphone."
Named Saygus V-Squared (styled V
2
), the new smartphone is "engineered with high-end components and materials", has a somewhat rugged design, runs Android 4.4 KitKat, and is "dual-boot capable." There aren't too many details regarding the dual-boot capability, so for now we don't know if the handset can run, say, Windows Phone.
The V-Squared / V
2
certainly packs some interesting features, including a biometric fingerprint scanner on its right side, Harman Kardon Sound Technology with 3D Movie Audio, and
two
microSD card slots for up to 256 GB of extra storage space. There's 64 GB of internal memory, so you could have 320 GB of storage space in your pocket with this handset. Moreover, the new device supports Wireless HD - the wireless equivalent of HDMI - and has a 21 MP rear camera and a 13 MP front-facing one, both featuring Optical Image Stabilization.
According to Saygus, the V-Squared is "fully waterproofed", though it's not clear what its IP rating is. Other features: 5-inch 1080p display, IR blaster, quad-core 2.5 GHz Snapdragon processor (possibly the Snapdragon 801), 3 GB of RAM, and a 3100 mAh battery that supports wireless charging and can provide as much juice as a 4500 mAh regular battery - at least that's what Saygus is claiming.
It's not clear when and for how much the Saygus V-Squared will be released. However, we know that the handset already won a CES 2015 Innovation Award - so we'll definitely see it at CES in early January.
Saygus' previous smartphone, the QWERTY equipped
Vphone
, was supposed to be launched by Verizon in 2010, being cancelled at the last moment.
What do you think about the Saygus V-Squared thus far? Does it look like a super smartphone to you?
sources:
Saygus
,
CES
via
Engadget