Satechi Divoom iFit-2 speaker stand hands-on
1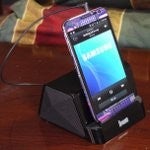 More than anything else, pricing is simply one of those things that can either make or break a product, but for the
Satechi Divoom iFit-2
, it's undeniably in its favor as it sports a devilishly low price of
$29.99
right now through Satechi's web site and Amazon. Aside from the obvious affordable pricing, the other cool thing about the iFit-2 is the fact that it'll
accommodate most of today's smartphones and tablets
– while still opting for a portable form factor that'll make for the perfect companion on the go, or better, just sitting beautifully as a centerpiece on your table.
First and foremost, we like that the Satechi Divoom iFit-2 is remarkably
solid in build quality
, thanks primarily to its sturdy plastic exterior. Of course, its angular cutouts and glossiness give it an appealing look, but it's one heck of a
fingerprint magnet
that dirties up its appearance if you're not quick to give it a good rub down with a piece of cloth. Still, its accompanied weight enables it to keep even some of the heaviest of tablets in place. Along the front is a slot that'll hold the device in place at an angle, though, its approximated 3/4 inch thickness means it won't be able to handle some of the heftier devices out there. On its sides, its two speakers are hidden and well protected behind their grills, while the rear houses its power port, miniUSB port for charging, and a 3.5mm auxiliary input jack.
As we mentioned already, the iFit-2 can accommodate most things, even if they're in some kind of case. And of course, devices can be positioned in either landscape or portrait to offer you the most optimal view. Lastly, a small cutout is found in the slot to allow you to discretely connect your specific devices' charging cable – well, there's also narrow space on the bottom of the iFit-2 that keeps the charging cable in place. Using a Samsung Rugby Smart for our testing, the iFit-2 puts out substantially
stronger audio
than the handset's dinky internal speaker. Putting it to the limit, there's no denying that the iFit-2's speakers are boisterous at the loudest volume setting, but there's a tiny bit of
strain
that we can hear. Regardless of that, it's surely equipped in really lighting up a room with robust music.
Indeed, the iFit-2 can simply stand stationary at a table of some sort, but it's also blessed with a
rechargeable lithium-ion battery
that's rated for
7 hours of playtime
. That's not bad at all considering the strong tunes it's able to establish. Granted there are other wireless solutions out there that get the same thing accomplished, they're normally priced higher than the $29.99 Satechi Davoom iFit-2. Therefore, when you take that into consideration, you're still getting a whole lot of value out of it.