Satechi Audio Move SD is a pocket-sized rechargeable speaker fitting for any smartphone
1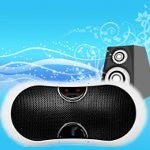 When you listen to the audio that most smartphones are able to blast through their speakers, it might be ample enough to make out at a close distance, but move away from it, there's not a whole punch to its bite. Well, if you happen to be big on audio and need something with a teeny bit more power, you ought to check out the
Satechi Audio Move SD
.
First and foremost, it's a compact rechargeable portable speaker that utilizes a
two-speaker configuration
to produce robust stereo sound. Plus, with the addition of its support for
32GB microSDHC cards
, you'll be able to store roughly over 600 albums to your collection.
So how do you connect your device to it? Well, there's a 3.5mm audio jack that's compatible with nearly any device with a headphone jack – so yeah, it's only a
wired connection
, but it's quick and simple
Thankfully, its internal battery is rated to provide approximately
17 hours of music
on a single charge, and it's charged via any USB port or 5V USB power adapter. Not only does it provide the muscle to bring your music collection to life, but it's very easy on the wallets as well! In fact, the Satechi Audio Movie SD retails for
$29.99
through Satechi's site or Amazon – making it an easy buy for some people.
source:
Satechi