Santa appears in latest Apple iPhone 4S ad, using Siri to help him make his deliveries
17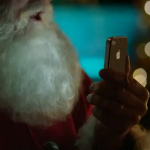 It is so obvious that we would bet that many of you thought about it weeks ago. The "it" we are referring to is a commercial that would feature Jolly Ol' Saint Nick using Siri
to get directions as he flies across the Christmas sky
with his bag full of presents. Of course, with Christmas a week away, Apple had the same idea that everyone else did and if you click on the video below, you will see the Santa uses Siri ad just in time to give you some holiday cheer.
Santa also uses Siri to check on the weather (14 degrees in Cleveland? Brrr!) and gets an email with a list of who has been naughty and who has been nice. Of course, Apple is exaggerating when the ad makes it seem that Siri is capable of keeping track of 3.7 billion appointments, but it is all in good fun and we doubt any Scrooges from the competition will
file for a preliminary injunction
against the ad.
source:
YouTube
via
CNET