Samsung's new Ultra II line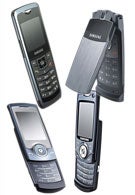 Samsung U100
is the Ultra Edition 5.9, which means it is 0.23 inches (5.9mm) "thick" phone, Samsung like always claims is the "World's thinnest phone". The successor of the X820 has the same resolution for its display (220x176 pixels) but improves the camera resolution from 2 to 3 megapixels. Unfortunately, the U100 is also a tri-band only European phone, and in won't be fully usable in the States, just as it was with the X820. Keep in mind, that the latter one had its US-bound version, as the Trace T519 released from T-Mobile.
Samsung U600
is the Ultra 10.9 slider which replaces the D900. It has similar functionality but in new design and dimensions. Samsung hasn't boosted the camera resolution and it is still 3-megapixels, while the display is 2.2" large with QVGA resolution. The phone also features Bluetooth stereo and microSD slot. We are happy to see that it is quad-band GSM world phone.
The
U700
is the Ultra 12.1 and adds 3G high-speed data to the U600 at the price of some additional thickness and lack of 850MHz GSM band for the US, which means it is tri-band Europe GSM with UMTS/HSDPA.
The Ultra 9.6 is the
U300
clamshell – the replacement of the D830 is slimmer than the slider models but also has 3-megapixel camera. It has QVGA internal display and small external OLED unit for caller ID. Tri-band GSM only, it is destined to Europe
For more live images, check our hands-on report from 3GSM 2007