Do you think that Samsung's new One UI is indeed best for one-handed operation?
37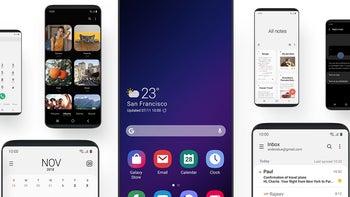 Samsung's head of interface design got on stage during its developer conference keynote and detailed what is perhaps the biggest interface overhaul of a cell phone brand, well, ever. Dubbed One UI, this interface will start replacing the current Experience UI as soon as the holidays are done, at least for the Galaxy Note 9, S9 and S9+ owners.
The kicker is, however, that Samsung has rethought navigation and display content from the ground up with today's big screens and its
upcoming foldable phone
in mind. Thus, the actionable content is situated in the bottom half of the usable screen canvas, with big, fat, juicy icons and switches, while the glanceable or readable one is at the top where your thumb can't reach anyway, especially on today's 6"+ phones.
This sounds like the Holy Grail of big-screen touch interfaces and is a totally different approach compared to current one-handed modes that simply shrink the content to manageable heights, making icons microscopic in the process. This is why we wanted to ask you if you find Samsung's new One UI the best solution for using today's giant handsets with one hand as its interface design team claims, or are you actually satisfied with the current state of affairs?