Future of Samsung's AMOLED displays look amazing
9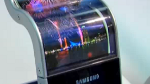 If this is the future, we can hardly wait. Samsung put a number of prototype AMOLED screens on display, ranging from a 7 inch AMOLED screen for the next generation of the Samsung Galaxy Tab, to folding, flexible and transparent displays.
If you want to see something absolutely out of the Jetson's, check out what Samsung is showing us while the 14 inch transparent display is being shown. You see an animated tape loop that shows a man using a touch screen watch. He removes the watch and folds it out into a flexible display with a hololgram. The screen then becomes a "newspaper" which turns into a smartphone. The display then peels off and becomes a watch and the process starts all over again.
Who knows how much of this technology will ever be produced. But then again, 30 years ago no one thought that we would be getting our news and sports from web sites viewed on our telephone.
source:
Samsung
(Translated),
NetbookNews
Recommended Stories