Samsung's boss walks free, prosecutors still on his case
21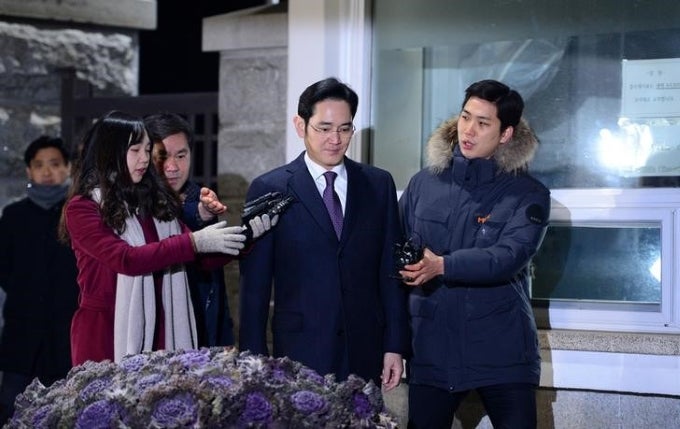 Jay Y. Lee, Samsung Group's Vice Chairman and de facto head, was freed from jail today, as a South Korean court dismissed the arrest warrant against him. Lee was sent behind bars for one night, after it was found that he was involved in the bribery scandal that got the South Korean President, Park Geun-hye, impeached. He spent the time in jail, as he awaited court's decision on whether the arrest warant against him should be granted.
In a statement on his ruling, the judge that dismissed the warrant said:
"After reviewing the contents and the process of the investigation so far … it is difficult to acknowledge the necessity and substantiality of an arrest at the current stage."
Needless to say, South Korean prosecutors are not happy with the judge's decision. The special prosecutor's office said it would be continuing its investigation, but it has yet to decide if it will push for the arrest warrant again, at this point in time. Officials also explained that Lee's release will not change their plans to investigate other conglomerates, suspected to be involved in the bribery scandal.
Spokesman Lee Kyu-chul said that prosecutors don't believe Lee's statement that he was a victim of coercion due to pressure from President Park. He also explained that another Samsung Vice Chairman, Choi Gee-sung, is also suspected for the same crime, but didn't provide additional details.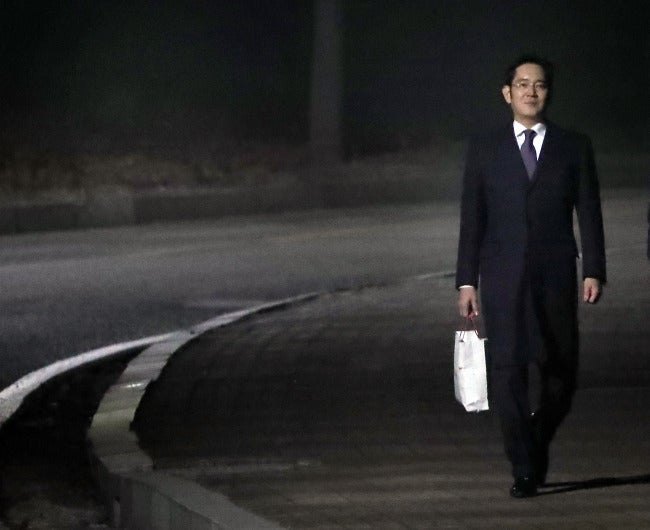 Jay Y. Lee exited the detention center, carrying a white shopping bag (courtesy of The Korea Herald).
Two more Samsung officials are currently being investigated – Choi's deputy, Chang Choong-ki, and Samsung Electronics executive Park Sang-jin.
Lee Jung-jae, a lawyer and former prosecutor, told Reuters that he doesn't believe that special prosecutors will push for Lee's detention.
"They probably already have as much evidence as they could gather,"
he explained.
"They will indict him eventually, but without detention."
Samsung, on the other hand, said in a statement that it appreciated
"the fact that the merits of this case can now be determined without the need for detention."
Others are not so appreciative of the judge's decision, as some members of the public are outraged. Reuters cited people on the South Korean web portal Naver, one of them saying that
"the law is not equal for all."
Following Lee's release, key Samsung Group shares rose. Samsung Electronics gained 1.5%, while Samsung C&T rose by 0.8%. Some investors still fear that Lee might be send behind bars, though.
"The only thing that has changed is that he won't be detained now,"
said Park Jung-hoon, a fund manager at HDC Asset Management, adding that nothing was certain just yet.
via
Reuters