Samsung's all-metal Galaxy C5 leaked: looks a bit like the HTC 10 (UPDATE)
57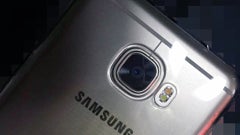 UPDATE:
More pics of the device sans the shiny case have been added to the gallery.
Along with its higher-end product lines such as the Galaxy Note and Galaxy S series, Samsung has plenty of coverage as far as the mid-range market is concerned. In fact, it wouldn't be outlandish to suggest that the South Korean company has pretty much saturated the market with new lines over the last few years. And yet, here we are once more with another leak of a new, previously unseen, so-called 'Galaxy C5'. If there's one thing that seems to get smartphone fans in a tizzy, it's the promise of a metal finish, and according to brand new images of this C5 handset, it'll be another metallic maestro.
The Galaxy C line has been suggested on a couple of occasions before now. The Galaxy C7, for example,
has already been spotted in benchmarks
with a fairly strong assortment of specs. The new images, however, add some legitimacy to the whispers, and apparently, the device is being manufactured as a response to the growing number of Chinese firms that are grinding out cheap-but-powerful mid-rangers.
The device, which supposedly carries the model number SM-C5000, may look a tad glossy in the photos. This is because it's covered in a silicone case, which we cannot help but wish was taken off just for the benefit of the snaps.
Still, what about those specs? It's said to be a powerful device packing a Snapdragon 615 or Snapdragon 617 with Adreno 405 graphics. With 4 GB of RAM to boot, it perhaps belongs in that mid-to-high-end category just below the likes of the
Galaxy S7
. Elsewhere, the Galaxy C5 is expected to boast a 16-megapixel main shooter allied to a strong-sounding 8-megapixel selfie camera, and users can expect a staple of Android 6.0 Marshmallow chased with a dash of Samsung's own TouchWiz UX.
Just when, and indeed where Samsung plans to launch the device is a matter of debate. The design is very un-Samsung-like, and to our eyes, vaguely follows the designs of
Apple's iPhone 6s
and the
HTC 10
. All of this only adds to the intrigue, and with word on the street that Sammy wants to tackle the rising army of powerful-yet-cheap models out of China, we'd expect it to be priced considerably lower than those devices aforementioned.
What do you make of this new device, particularly the design? Take a look at the snaps and be sure to share your thoughts below.
Recommended Stories