Samsung's Theme store is awesome: 11 great, free skins for your Galaxy S6 or S6 edge
18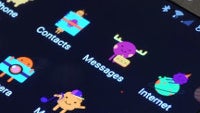 As part of a multilateral push for deeper customization of non-stock Android devices, Samsung, among others, introduced the Theme Store alongside its 2015 flagships — the Galaxy S6 and S6 edge. Through it, users of the two devices (and we expect other Samsung handsets in the future) can apply custom themes published by third-party devs on the store, thus changing the look of the user interface quite significantly.
Indeed, the themes available to Galaxy S6 and S6 edge users are quite comprehensive, and make changes to not just your homescreen and app drawer, but also built-in apps, icons, internal menus, color schemes and accents, and even sounds. Best of all, these being as high profile devices as they are, the selection is growing at commendable rates, and so all tastes ought to be accounted for before long.
Here are 11 great examples of free themes for your Galaxy S6 or S6 edge that you can download right now:
Pixel Art
Price: FREE
As the name of the theme suggests, Pixel Art is for lovers of the form, characterized by intentionally pixelized accents, along with Mario-like backgrounds. We're often surprised just how popular such themes are with the general public (answer: very!).
Material
Price: FREE
We've already covered the Material theme in a separate post, so it definitely has a place in our small collection. Again, as the name suggest, Material brings a decidedly stock Android feel and look to your Galaxy S6 and S6 edge.
Retro
Price: FREE
The idea behind the Retro theme is also betrayed by its name. Thoroughly vintage in look and feel, this theme is made complete by the usage of fitting icons and accents.
Avengers: Iron Man
Price: FREE
Most of us can't afford the pricey, limited edition
Galaxy S6 Iron Man
, but with MARVEL's dedicated Avengers: Iron man theme, you're halfway there. All you need now is an appropriate skin for the exterior, and you've got yourself a worthy replica. Still, keep in mind that the accents with the free theme are silver, not gold, as is the case with the S6 Iron Man edition.
Avengers: Hulk
Price: FREE
If Hulk is more you than Iron Man, then breathe easy, for MARVEL's got you covered with a dedicated Hulk theme as well (along with several others coming next).
Avengers: Thor
Price: FREE
A Galaxy S6 and S6 edge theme dedicated to Thor was also made available by MARVEL, with fitting accents, backgrounds, sounds, and icons in hand.
Avengers: Captain America
Price: FREE
Captain America wasn't left out, either, being one of the more notable heroes in MARVEL's universe. Our personal favorite.
Avengers: Black Widow
Price: FREE
Lastly (as far as MARVEL's universe of superheroes is concerned), fans of Black Widow will be happy to hear that a tribute theme for her is available as well.
Dinosaur
Price: FREE
Whew! Now that the Avengers are out of our way, we can turn to something a bit more... normal. Like a dinosaur theme!
High Tech
Price: FREE
If Dinosaurs feel too passé for you, the High Tech theme might be a bit closer to what you're looking for.
BMW i8
Price: FREE
Speaking of high tech, there's a dedicated theme tailored around carmaker BMW's futuristic i8 supercar that runs purely on electricity (for a few dozens of miles).