Samsung's "technological feat" literally crashes down from the sky
3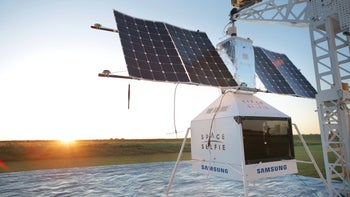 Once in a while, we hear about companies organizing events that make us wonder exactly how bored the marketing department was when it came up with the idea. Usually, these extravagant advertisements are called marketing stunts and for good reason. Just like real stunts, the marketing ones sometimes go wrong and from a user perspective, that's what's great about them.
Well, unfortunately for Samsung, their latest idea to show how it pushes "the boundaries of innovation" went south. About a couple of weeks ago
Samsung announced it's "SpaceSelfie"
initiative which was meant to demonstrate "the pioneering spirit of its brand" and set "a new standard for the potential of mobile technology".
The plan to do that was by putting a Galaxy S10 5G alongside a regular camera and strap them to a massive high altitude balloon. Once the balloon is high in the sky, Samsung would show photos of users that submitted selfies to the company's website and the camera would take a picture of the S10 5G displaying the selfie in "space".
The contraption was launched successfully but its return to earth was far from smooth. The SpaceSelfie apparatus crashed on a farm in the middle of Michigan,
Slashdot reported
. The couple that owns the farm heard a loud noise around 8:45 in the morning. Outside, they discovered the wreckage right beside the fenced enclosure where their horses were about to be brought out just minutes later. A video was posted by the woman on Facebook clearly showing the "Space selfie" branding on the side of the unwelcome guest.
The couple said they thought a satellite had crashed from space but in reality, Samsung's balloon wasn't nearly that high, although its solar panels do give an impression of a satellite. While they approached the situation with humor, it could have been a lot worse had the object landed on their house instead. Samsung said in a statement for the local press that the weather was to blame for the incident and apologized for the "inconvenience this may have caused".