Samsung working on an elegant Android flip, possibly a Galaxy Folder heir
15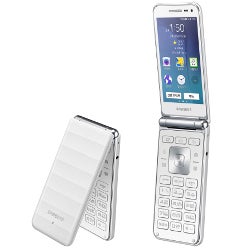 We ought to give it to them, flip phones and side-sliders were great in their heydays. From the unfolding to take a call, and have the lower half next to your lips, while the upper part reaches your ear - you know, like a real phone - to the reassuring click when you close it that tangibly marks the end of a call, flip phones have a certain aura about them that can't be recreated by today's large, flat pieces of toaster bread.
Flips are still the rage in Japan and some other Asian countries, plus there are quite a few nostalgically-driven fans who remember the convenience of a flip handset, so both Samsung and LG, not to mention the Japanese kept catering to that crowd, but with a modern day Android twist. When asked why is it still making flip phones, LG answered that there are some user categories that benefit - those who mainly talk with their phones, or don't game and use the browser sparingly, those who want theirs kids reachable, but not distracted by apps and games, and the elderly, because of the big physical keypad.
The latest in that flip Android line might be a
Galaxy Folder
(SM-G150) successor, as a handset marked SM-G160 has turned up in the Zauba import database.

The original Folder has some not-so-impressive specs, but it's an Android flip, and an elegant one at that, which one to come with tradeoffs, so we hope this year's edition will get a specs bump. From the database entry above it is evident that the 3.8" screen will stay with the same diagonal, but we might get a higher pixel count this time, here's to hoping. It is likely to only land in Asia, though, so if you are eyeing something like that to fuse old and new in a stylish package, you'd probably have to import.