Samsung uses its "White Glove" service to get the rich and famous to promote its devices
11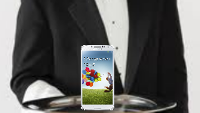 Surprisingly, Korean based Samsung uses some of the techniques used by plastic container manufacturer Tupperware in order to get celebrities 'hooked' on its devices. A published report on Tuesday revealed how Dana Brunetti, president of the production company responsible for
The Social Network
movie, and Netflix's original
House of Cards
series, was given a
Samsung Galaxy S III
at a party after the release of
The Social Network
.
Brunetti, an acknowledged Apple fan, listened to the Samsung rep explain how the phone worked, all the time thinking that once the party was over, he would continue using his iPhone. But the Samsung device felt nice in his hand, so Brunetti promised to follow the Samsung rep's request that he use both phones for a month and then decide which model he wanted as his daily driver. At the end of the month, Brunetti retired his Apple iPhone and went with the Android flagship.
"People love things that are free, particularly celebrities. They're the last people that need something free, but it's smart. They wouldn't buy it otherwise."
-Dana Brunetti, president, Trigger Streets Productions
"They (Samsung) were incredibly respectful of my time. They took into account who they were targeting, and now I do what they desire, which is spread the word."
-Charlie Collier, president, AMC Network
This was all part of Samsung's "White Glove" service that has Sammy giving out its current high-end handset for free to the rich and famous at social gatherings. The man behind this is Mitch Kanner, who came up with the idea while toiling for his 2Degrees firm which is in the business of, well, making connections. Kanner was the guy who
arranged for 1 million Samsung handsets to receive Jay Z's new album for free
. He insists that the celebrities who pitch Samsung Galaxy phones have to really, really love them or else the celebrity endorsement doesn't seem real.
Besides switching to the Samsung Galaxy S III, Brunetti, the Apple fan, switched from the Apple iPad to a Samsung Galaxy Tab. And after getting flipped like a police informant, he hosted a party of his own, attended by Samsung's "White Glove" rep. And a whole new family of Samsung fans were born. Of course, it is ironic that those who can afford to buy any phone are getting freebies, but Samsung is counting on the celebrities to promote its phones via paparazzi's photographs.
source:
FastCompany
via
BGR