Samsung turns to designing custom CPU cores for its Exynos mobile chipsets
28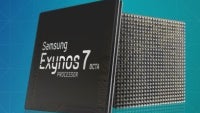 Do you think Samsung smartphones should run on its in-house chips following the
Exynos 7420's breakthrough
in the Galaxy S6? Yes? Good news! Business Korea reports that Samsung's large scale integration (LSI) division recently began developing a custom CPU core project for mobile application processors.
This is another important step towards establishing Samsung Semiconductor as a maker and supplier of grade-a silicon for mobile device vendors. As you probably know, the company forged its skills by producing custom AP's for Apple, in addition to its strong presence in the memory chip business.
But now that Samsung's ambition has grown to creating, using, and selling chips of its own, it makes sense to develop custom cores and achieve CPU design freedom. The company already had a flying start in custom CPU making, coming up with the impressive Exynos 7420 SoC, which powers the Samsung Galaxy S6 and S6 Edge. But this chipset employs licensed ARM Cortex-A57 and Cortex-A53 designs, although it is made on Samsung's own
FinFET 14nm fabrication process
.
Hopefully, Samsung's CPU core design ventures will enjoy similar success. The company "expects to see results" from the project by the first quarter of next year, and aims to use in-house processors for its high-end products.
In addition, Samsung has been progressing with integrating mobile processors and modems on a single die, which could put its chipsets in the same league as Qualcomm's Snapdragon platform. Samsung started pretty late with the whole processor thing, but it seems eager to grow.
source:
Business Korea
via
G For Games