Samsung to release a multi-charging USB cable – charge up to 3 devices at once
12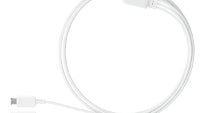 We are all familiar with the "I only have only one power outlet next to my nightstand" case and everyone who owns a smartphone and a tablet has had a schedule to charge them on different times at least once in their life. Of course, this not always works out, and we are still sometimes forced to pick one device to charge over the other.
Samsung, having already made a foray into smartwatches and wireless headphones, understands that its users may be suffering from a similar problem, only multiplied by two. To help alleviate such problems, Sammy will be releasing a multi-charging cable. It's a piece of kit that plugs via USB into a wall charger on one end and has 3 micro-USB plugs on the other – allowing one to charge up to three mobile devices simultaneously.
The cable is said to distribute the 2 A of power that come from the wall charger evenly across 3 devices. This means that if you have a tablet, a smartphone, and a smartwatch plugged in, each will receive around 0.667 A. This will make them charge slower than usual; however, it shouldn't be a problem if you just plug your devices in for the night. If you wish to speed charging up a bit – you'd have to unplug one of the devices, giving the other two 1 A each. Naturally, leaving just one plugged in will give it a full 2 A charge for a normal charging time.
Sammy claims that the cable will be portable and "a perfect accessory for the on-the-go mobile device user". The shop page lists it as "coming soon" with no concrete release date, its price is pegged at $39.99.
source:
Samsung
via
SlashGear