Samsung to phase out the fingerprint scanner on future handsets?
58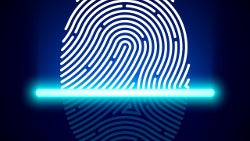 It happened so quickly. From 2011's
Motorola Atrix
to now, we have seen the fingerprint scanner go from a rarity to a feature found on even low priced handsets. At the same time, smartphone owners have had their feelings about the biometric reader go from "what the hell do I need a fingerprint scanner for?" to "I'd be lost without my fingerprint scanner." Well, maybe that overstates the thinking of device owners, but today's smartphone user has apparently lost the ability to unlock a device or verify his identification without having his fingerprint scanned.
But now, we could be looking at a new era, one that relies on another way to verify identity. For example,
the "revolutionary" front-facing camera on the Apple iPhone 8
that super Apple analyst Ming-Chi-Kuo has discussed, is supposed to include face detection that could allow Apple to ditch the Touch ID fingerprint scanner. The 10th anniversary model reportedly will have an edge-to-edge display with the front of the phone totally covered by the screen. With all buttons removed, Touch ID will either be replaced completely with this face detection system, or else Apple will embed it under the display in the area reserved for such functions.
Now it appears that Samsung could be planning on doing away with the fingerprint scanner. According to a tweet out of China, a member of Samsung's staff allegedly said, "We will kill the fingerprint, it's obsolete." The
Samsung Galaxy S8
and
Galaxy S8+
both have a fingerprint scanner and an iris scanner on board. However, a recent report said that the iris scanner has been working too slowly and has not been reliable,
forcing Sammy to add facial recognition
to its new flagship handsets. The latter will supposedly unlock a phone in .01 seconds.
Now, the cycle starts over; before you know it, the iris scanner will have followed in the footsteps of the fingerprint scanner going from rarity to commonplace. If the tweeted quote is legit, Samsung could ditch the fingerprint scanner by the time that the 2018 flagship model is unveiled..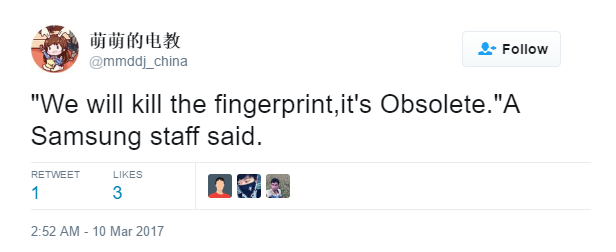 Samsung staff member allegedly says that fingerprint scanners are obsolete
source:
@mmddj_china
via
Droidholic