Samsung to make major U.S. product announcement tomorrow; is it the Omnia II?
15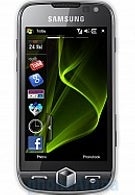 In the midst of showing off its' new handsets at CTIA, like the Behold II and the Intrepid, Samsung plans on making a major U.S. product announcement tomorrow. Scheduled for the 30 minutes between 11am and 11:30am, Eastern Time, the Korean manufacturer could be introducing the long-awaited Omnia II. Our last
report
on the device discussed a launch for Verizon in the middle of this month, equipped with Windows Mobile 6.1. But don't fret, our earlier story quoted the source as saying that a ROM update to 6.5 would follow not too long after launch. Now we know how long everyone has been waiting for the 3.7 inch AMOLED display, Wi-Fi and the 5MP camera, so tonight when the stars are out, look for one that is falling and wish hard. Perhaps Samsung will respond tomorrow with news about the Omnia II.
Samsung Omnia II Preliminary Specifications
(CDMA)
Thank you, James!