Samsung to implement 8 step battery testing in wake of investigation
11
While Samsung is going to work on repairing its reputation following the
Galaxy Note 7
fiasco, one way to get the public to feel better about the company is for Samsung to tell the world how it plans on improving the testing of batteries to be used on its handsets. After all, whatever testing procedures were in place last year were not enough to catch the problems that led to the explosions of several Galaxy Note 7 units.
Samsung has announced a new eight-point battery safety check which includes a durability test. That includes driving a nail through the battery to see if it survives. It also means putting the cell through tests involving extreme temperatures and generally pushing the battery to the limit to see how it responds. Other tests will check for leaks and discharges and Samsung will even take an Xray to make sure that everything is as it should be. One way to find a problem with the battery in advance is to check for changes in voltage; this will be included with the new testing being done by the manufacturer.
This rigorous battery exam will go into effect with the batteries produced for the
Samsung Galaxy S8
. The new process should make consumers feel a lot better about the safety of Sammy's new devices.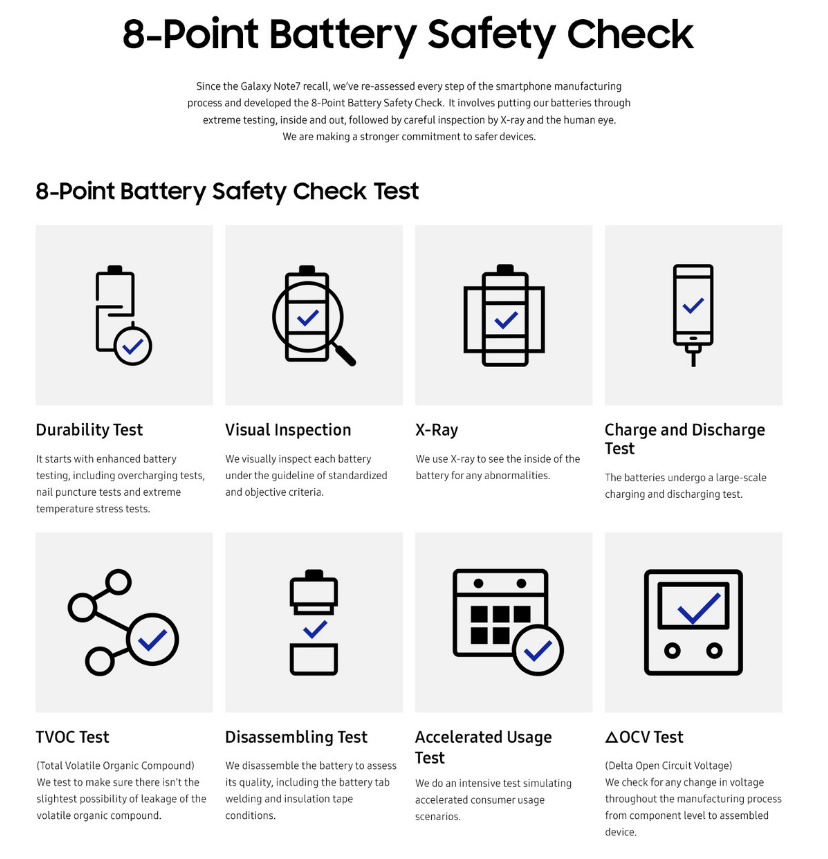 Samsung will use this 8-point safety check for the batteries on its new devices
source: Samsung