Samsung to buy Novaled for longer-lasting, more efficient Super AMOLED displays
18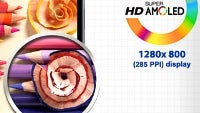 Samsung has set its eyes on Novaled, a company that is developing the PIN OLED technology that allows longer-lasting organic LED display panels with lower power consumption.
Bloomberg reports that Samsung is looking to acquire the Germans, and incorporate the goods in its own Super AMOLED panel brand that is a signature staple of the Galaxy flagship smartphone line.
"
We are internally reviewing plans to acquire Novaled, but no details have been set yet
," said Lee Tae Hun, a spokesman for Samsung's chemical and electronic materials holding. The price is rumored to be in the realm of $200 million, and Samsung will be buying quite the innovation powerhouse here.
Novaled was ranked in the top 10 most innovative companies among various emerging technologies in a Lux Research study, based on its projects' potential, addressable market and IP strength. It recently announced breakthroughs aimed at printable OLED materials, as well as laser processing to customize OLED panels after manufacturing, so there is plenty for Samsung to work with after acquisition, in order to make its Super AMOLED brand even better.