Samsung teases transforming Windows 8 tablet/laptop
29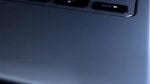 It looks like Asus isn't the only company that's embracing the transforming tablet/laptop idea, and Samsung may be jumping into the market as well. The only thing is that Samsung isn't coming with an Android device, this will be a Windows 8 device, at least that's what it looks like from a new teaser video that Samsung has put up on YouTube.
The video is pretty cryptic with a lot of clock gears and such, and not a very good view of whatever the product itself is exactly. It is blatantly a laptop, but given that it claims to be the "evolution of technology", it can't
just
be a laptop. The prevailing theory is that it will be a tablet and keyboard dock combo running full Windows 8. There are some holding out hope that it is a dual-boot Windows 8/Android device, but that seems pretty unlikely, and seems like something Microsoft would most certainly frown upon.
What do you think?
Recommended Stories