Samsung tablet spotted in the wild with a massive 18.4-inch display
27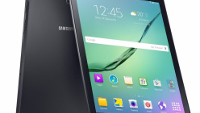 Samsung has a reputation for indulging in the outrageous at times, and while the company has been mocked in the past for this very reason, the likes of the Galaxy Note line prove that Samsung can forge new markets from ideas that seemed ridiculous initially. After well and truly establishing the path for mammoth smartphones, could Samsung be looking to do something similar with tablets? Spotted in the wild recently, the company's SS-18.4 slate boasts a display of 18.4 inches in diameter, and if it ever saw the light of day, it'd be comfortably larger than anything else that the consumer market has to offer.
Noticed while being transferred via Delhi Air Cargo, the batch of seven tablets has a combined value of €3261 ($3560), equating to around €465 ($508) apiece. These figures only outline the value of the stock to Samsung, though, so shouldn't be taken as any kind of guide as to a future retail price.
As you will notice in the listing, the devices will be destroyed after testing so as to prevent leaks:

There's no picture of said device, and since the listing explicitly states that the inventory will be thrown out to the lions post-haste, there's a good chance that we'll never get a glimpse of it in the flesh. With that said, designers and concept makers are always conjuring up new and exciting ideas, so perhaps one creative head will follow up with a visual of what an 18.4-inch slate might look like.
We certainly couldn't imagine carrying around an 18.4-inch tablet day to day, although if the resolution was in the 2 or 4K vicinity, it could definitely make for some epic movie times.
Let us know what you make of this monstrosity via the comments!