Samsung suppliers once again accused of providing poor working conditions
15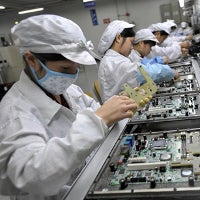 It seems that the working conditions across Samsung's Chinese facilities and more than 100 local suppliers haven't improved a lot since 2012, when the giant was publicly accused of
employing minors and treating its workers harshly
. Back then, Samsung had promised to improve the working conditions by the end of 2014, but, unfortunately, it appears that the company is pretty far from meeting that goal. This was revealed by the company's annual social responsibility report, which was outed just yesterday.
Said report mentions that a 3rd-party audit from December 2013, which cover roughly half of Samsung's contractors across China, has found out that a large number of these still fail to provide all of their workers with adequate protective gear, such as safety goggles, masks, etc. In addition, the employees in question have been illegally forced to work overtime without being paid, which is still a big issue in China.
Around 40 suppliers also failed to procure proper evacuation drills, which raises serious safety issues. You might remember that since the beginning of 2014,
not one
, but
two major
cases of fire have caused certain production delays and complications for Samsung. Luckily, no workers got injured in the mishaps.
Fortunately, the audit did not find any cases of child labor in Samsung's own facilities. However, 48 suppliers employed minors, and to top it off, the latter were handling hazardous chemicals.
It is also important to say that the external audit covers roughly 100 of Samsung's Chinese facilities, which are around 200. We can only hope that the uninspected ones provide better working conditions.
source:
Samsung
via
The Guardian