Samsung sold over 100,000 Tizen-based Z1 smartphones
18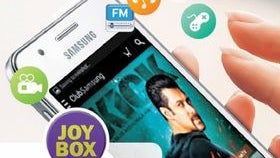 Several weeks ago, we told you that
sales of Samsung's Tizen-based Z1
smartphone had exceeded expectations (at least according to a Samsung official). Now, Business Korea has it that Samsung sold more than 120,000 Z1 handsets since launch: over 100,000 in India, and 20,000 in Bangladesh. While these figures aren't that impressive, we must not forget that the Z1 is a smartphone that runs a completely new OS and competes with lots of other cheap handsets (mostly based on Android).
The Z1 costs around $90 unlocked, and Samsung is reportedly "carrying out aggressive marketing campaigns" to promote it in India and Bangladesh (the only markets where the smartphone is currently available). Samsung bets on the fact that customers appreciate the fast Tizen UI, the handset's long battery life, and the local-targeted media content. These things aside, the Z1 features a 4-inch display with 480 x 800 pixels, dual SIM capabilities, 3 MP rear camera, dual-core 1.2 GHz processor, 768 MB of RAM, and 4 GB of expandable storage space.
It's said that Samsung plans to launch the Z1 in more Asian markets, including Indonesia, Sri Lanka, and Nepal. Samsung will probably not release the Z1 in North America and Europe, but that doesn't mean it can't introduce other upcoming Tizen handsets there.
source:
Business Korea
Recommended Stories